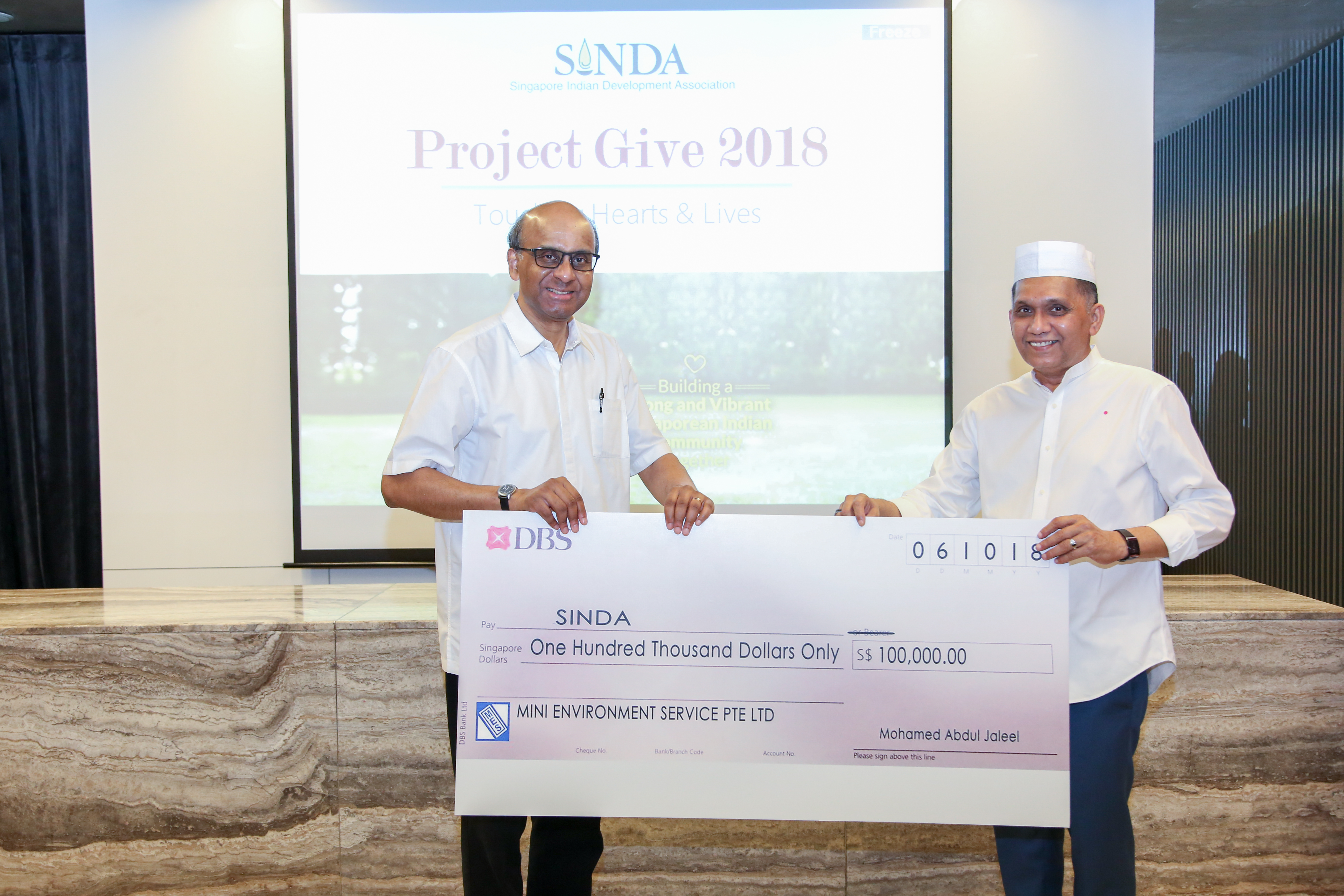 Mr Abdul Jaleel with Mr Tharman Shanmugaratnam, Deputy Prime Minister of Singapore during SINDA's Project Give 2018
Mr Abdul Jaleel is a Singapore born businessman and  the founder and CEO of MES Group of companies and is a noted philanthropist.  The area of his business activities are providing foreign Workers Accommodation, Logistics Solution Providers and running of Boutique hotels. 
Here is his interview:

1.  What motivated you to be a successful entrepreneur?
There came a time when my father had to close his convenience store, as he could not pay higher rent and had to send his family back to India as he could not earn enough to support them. That is when I discontinued my studies and took up small jobs like washing the cars and delivering newspapers to earn extra income in order to support my father. With that as a stepping stone, I had my father as a guide and a bunch of good friends who supported and motivated me to where I am now.

2.  Could you share with us the  Challenges that you have encountered in your business and how you overcame it successfully? 
The most difficult is the Policy changes that affect the business.  With the right expertise and over the time, we can overcome any challenge.  One should be willing to change and adapt.

3.   What made you an outstanding philanthropist ?
 As the saying goes, you will value something only when you do not have it. Likewise, the thought of giving to others in need came to me, as I knew how it feels not to have food, shelter and education. Gradually I started to give to those in need and ended up setting up my own foundation trust that caters to students who have financial difficulties funding their education locally.
4.    What is your advise to the aspiring youngsters
 Nothing comes easy in life. Hard-work  will pay off.  So work hard and never give up and always chase after your dreams.  Then you will sure succeed.

5.  Could you tell us on your various awards and accolades 
I have been Conferred the PBM and BBM tiltle by the President of Singapore.
Photo Courtesy:  MES Group of Companies