(continuation from the previous issue)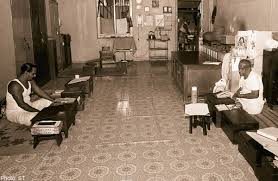 The Kittangi – Pioneer Bank 'Branches" that Empowered Nagarathars to Succeed Overseas as Private Financiers
Mr Subbiah Lakshmanan
JOURNEY TO FOREIGN LANDS
In the 1800s, transportation was a challenge.  The inland journey to the Indian ports was generally by bullock cart or horse carriage and it would take 3 to 5 days.  The ports were Nagapattinam for South-East Asia and Dhanushkodi for Sri Lanka.  The Sri Lanka sea crossing was short, less than a day, however the inland trek by bullock cart took about a week.
The journey to South-East Asia by sail boat (Paimara Kappal) could take about 2 to 4 weeks across the dangerous open seas.  Once they arrived in Rangoon or Penang or Singapore or Saigon the next portion of the journey would be either by river boats up the river or along the coast.  This was followed by inland journeys by bullock cart or horse carriage that could take an additional 1 to 2 weeks.
This adventurous and challenging journey, switching between different modes of transport also required to adapting to varying lodging facilities enroute.  Hotels were not prevalent in those days.  Where prevalent they catered more to the Westerners and were also expensive.  To efficiently manage this challenge Nagarathars built Chatrams in transit points.  These were again spartan facilities which only Nagarathars could use and provided all the basics like: Chettinad food, shrine, place to sleep, etc.  About 20 – 30 Chatrams were built in South-East Asia and greatly facilitated the journey that could take 2 weeks to 6 weeks.  This was further compounded by challenges of the seas and nature and made such journeys risky.  For this reason, the tradition of "Sollikirathu" or a formal farewell ceremony was developed by Nagarathars just in case the people do not meet again.In later years, steamships, railroads and motorcars reduced the challenges in transportation significantly.
SUMMARY
The Kittangi was a brilliant innovation and demonstrated how the Chettiars planned and conceived strategies to expand business and overcome challenges. The Kittangi was a precursor of branch banking and telegraphic transfer.  For about 180 years this model worked well and gave a good run for the money against banks like HSBC and Standard Chartered Bank.  These banks in their official histories mention the Nagarathars as their key competitors and the strategies they used to wrest business away from them.  It should be noted that, these institutions are known to have incorporated successful Chettiar practices and financial instruments into their own corporate practices.
Today out of an estimated 400 or so Kittangis worldwide only less than 20 are in a minimally functional condition.  The traditional Nagarathar banking business model has been superseded by modern banks which offer easily accessible loands and credit card facilities.  However, in Malaysia there are still Kittangis where small scale money lending is still done – Penang, Alor Star, Telok Anson being some of them.  In Kuala Lumpur and Singapore Kittangis are still in a good condition but being used for alternate purposes.  In Sri Lanka, Burma and smaller towns in Malaysia the Kittangis are in a derelict condition with few or no regular occupants. There is an effort being made in Singapore and Penang to preserve the Kittangis as heritage centres.  It is hoped these efforts will bear fruit in the next few years as important heritage of both the host countries and the Nagarathar community.
Like the American pioneers, who journeyed into the Wild West and converted the prairies and deserts into vibrant economic enters, the Nagarathars journeyed into the wilderness of South-East Asia braving the tides of malaria, insecurity, loneliness and uncertainty.  They surfaced as pioneers in the banking profession converting jungles into plantations and mines which then in turn grew into prosperous settlements and towns.  In the process they established a reputation for piety and honesty and were respected by one and all.
Sir Harcourt Butler, Governor of Burma wrote in 1927 (as quoted in the "Fiery Dragons: The Chettiars in Burma"
"You represent a very important factor indeed in the life of this province…Without the assistance of the Chettiar banking system Burma would never have achieved the wonderful advance of the last 25 to 30 years…The Burman today is a much wealthier man than he was 25 years ago; and for this state of affairs the Chettiar deserves his thanks."
A British planter in 1900s Ceylon is quoted to have said:
"Hamlets became villages, villages became towns, towns became cities, thanks to Chettiar businesses"
Nagarathars seized the opportunities of the day with great courage, business acumen and most of all a strong value system to generate enormous wealth both for themselves and the host countries.  Indeed, even today they are a beacon of inspiration and have left us so much to be proud of.
About the Author
Subbiah Lakshmanan is a Singapore-born Chettiar whose great grandfather started a Kadai in Singapore in 1892.  He has been a Financial Controller with various MNCs for over 20 years and he has completed his MBA at UC Berkeley.  He has been involved with many Chettiar related heritage projects in Singapore since 1998 including museum exhibits, talks, TV and radio shows, published articles, community education classes, Chettiar statue and MOE history curriculum. His family originates from Kallal and Vairavan Koil and he has 2 teenage children.
Photo Credit
Mr K Varadarajan
Mr N Subbiah Chettiar