Cover Photo:  Ms Merlin Pillay sharing some Chetti Melakan recipes with President Halimah Yacob and Mr Bay Yam Keng. Senior Parliamentary Secratary, Ministry of Culture, Community and Youth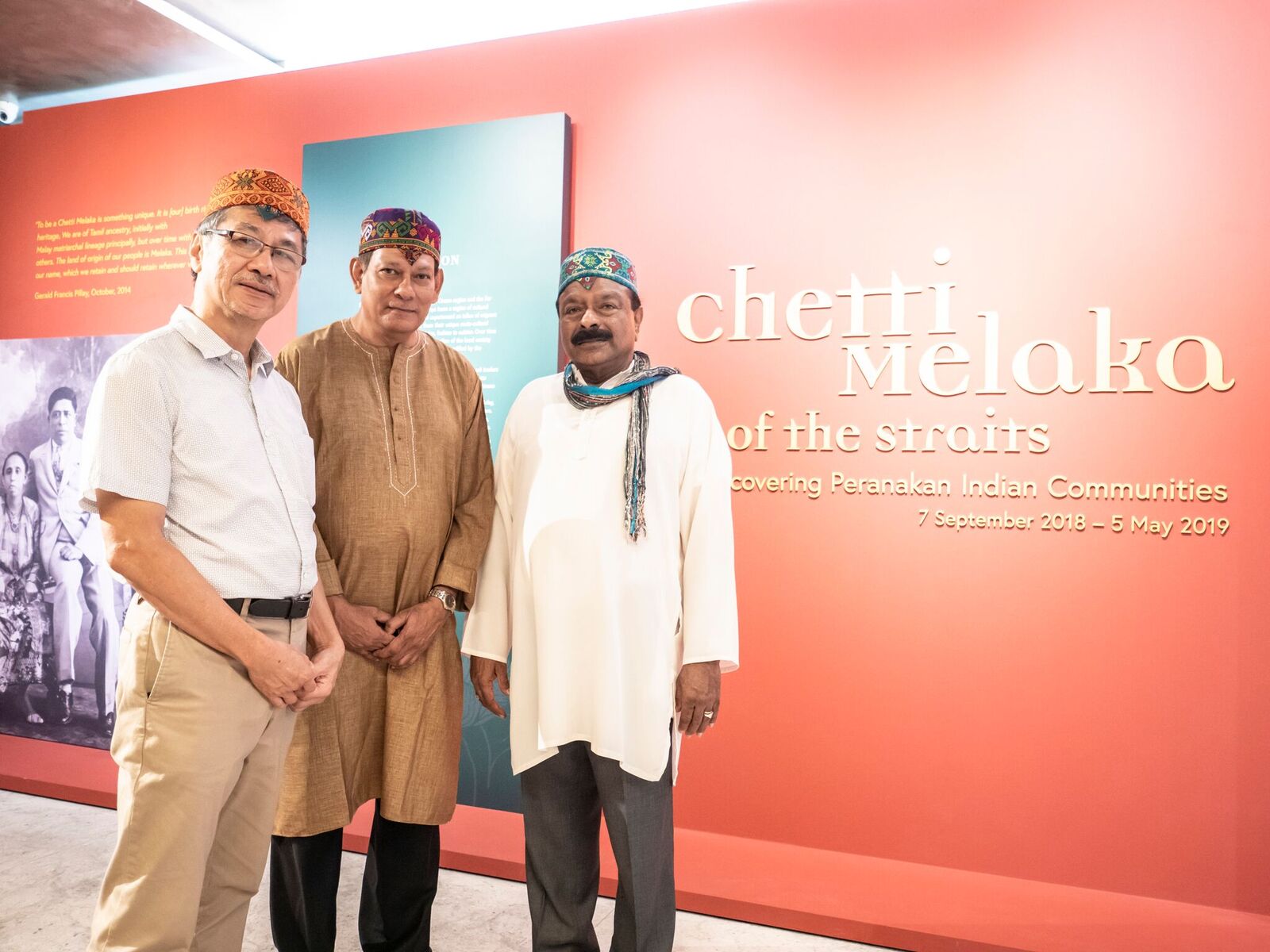 Mr David Bok, Mr Sanasee Philips Roy and Mr Ponno Kalastree, are some of the Chetti Melakans, who contributed to the exhibition
The Chetti Melaka are a fascinating community, with an unique culture that epitomizes the spirit of multiculturalism through a rich blend of Indian, Malay and Chinese influences. Also known as Peranakan Indians, they speak a language, Chetti Creole, which combines Tamil, Malay, and Chinese dialects; wear traditional outfits that reflect Javanese, Bugis, Acehnese, Batak and Tamil fashions; and have a cuisine that marries Indian, Malay, and Peranakan Chinese culinary styles. Their unique heritage is on display at the Indian Heritage Centre's (IHC) first community co-created exhibition, Chetti Melaka of the Straits: Rediscovering Peranakan Indian Communities.
The Chetti Melaka form a small but significant community of early migrants who have made Singapore their home. They are descendants of Tamil traders who first settled in Melaka,
a Heritage Institution of during the reign of the Melaka Sultanate in the 15th to 16th centuries, and married local women of Malay and Chinese descent.
Today, it is estimated that there are about 5,000 Chetti Melaka living in Singapore. While they largely retain their Tamil Hindu traditions, the Chetti Melaka have also embraced practices from the Chinese and Malay communities, resulting in a unique fusion of cultures.
The Indian Heritage Centre launched its first community co-created exhibition and annual CultureFest on the 6th September.  Chetti Melaka of the Straits: Rediscovering Peranakan Indian Communities and the annual Indian CultureFest 2018 were launched by guest-of-honour Madam Halimah Yacob, President of the Republic of Singapore.
The exhibition celebrates the culture and legacy of the Chetti Melaka, offering visitors a rare look into this lesser-known community and their way of life.
Mr Ponno Kalastree, President of the Peranakan Indian (Chitty Melaka) Association Singapore said, "We are happy to work with the Indian Heritage Centre to co-create this exhibition and to share our stories and heritage with everyone. As the only community that combines the Indian, Chinese and Malay cultures into something 'uniquely Chetti', it is important to us that this legacy is safeguarded and passed on to future generations. We hope that through this exhibition, we can help generations of Chetti Melaka to re-connect with their roots, and also share our very special heritage with others."
Photos and Article Courtesy:  Indian Heritage Centre