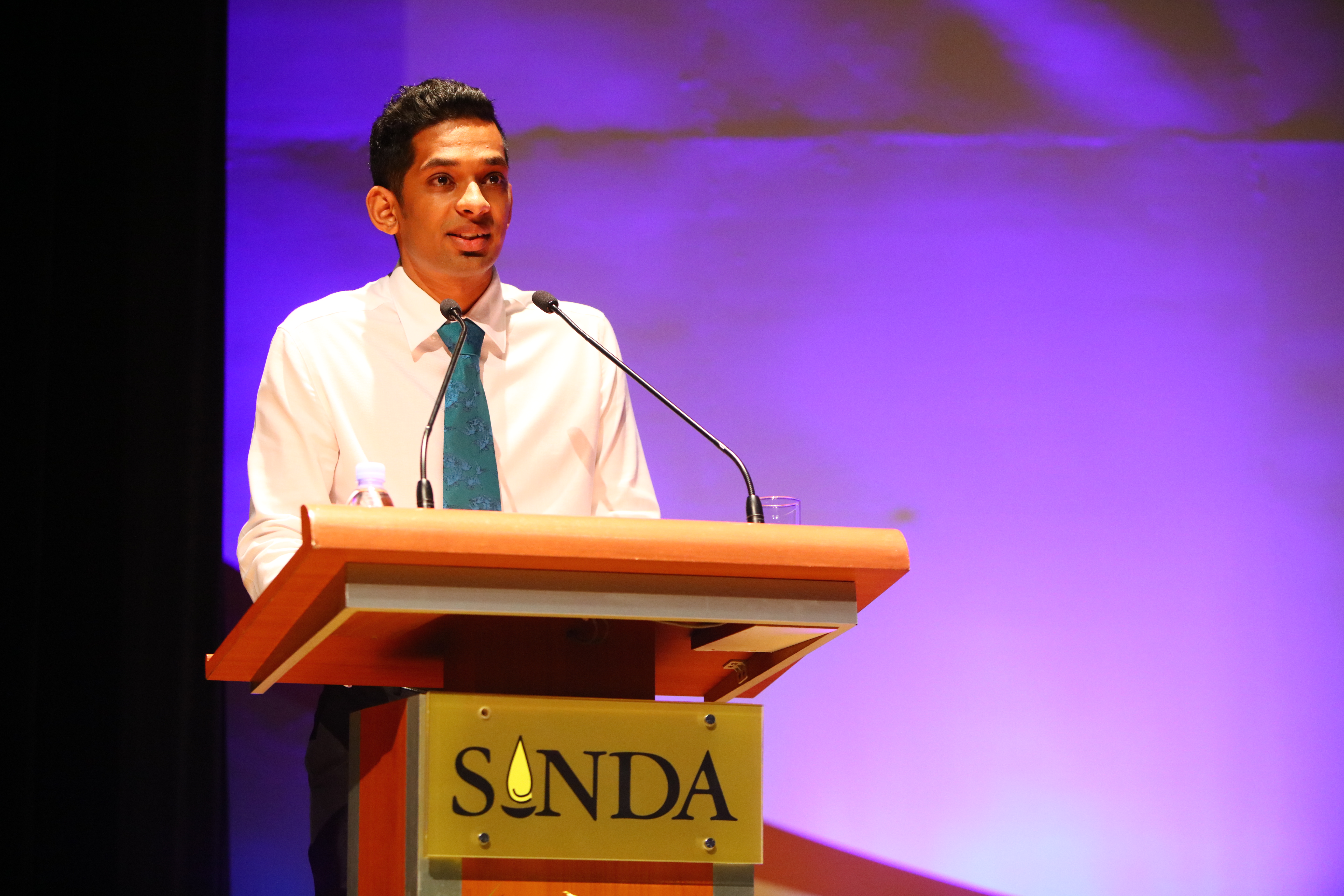 One of the award recipients sharing his experiences
SINDA Excellence Awards 2018
SINDA Excellence Awards 2018 took place on the 22nd September 2018 at the Singapore Polytechnic Convention Centre.  Mr K Shanmugam, Minister for Home Affairs and Minister for Law was the Guest of Honour.
The SINDA Excellence Awards (SEA) are the highest honours bestowed by SINDA upon Indian students who have achieved excellence in their respective academic fields, the arts or sports.  The success of the students is testament to their diligence, perseverance and passion to excel.
The SEA ceremony was introduced in 1992 to celebrate the student's achievements and celebrate the spirit of excellence that each one represents.  The award was then known as the Academic Excellence awards.  In 2008, in line with the robust and changing educational landscape, SINDA started to recognise students who had excelled in the area of sports and fine arts in the spirit of holistic education.  The inclusion of non-academic categories resulted in the awards being renamed as the SINDA Excellence Awards.
The academic recipients this this year range from PSLE students to local and overseas bachelor's degree graduates.  The Arts recipients include students who have excelled at their respective Arts institutions and Sport categories include students and youth who have obtained the Singapore Schools Sports Council Awards and or had represented Singapore at competitions.
This year 460 Indian individuals received certificates and vouchers in recognition of their outstanding performance in academics, sports or the arts.
For the first time, 11% of the total number of recipients are from SINDA programmes – specifically educational, youth and family enrichment programmes.  Also the number of award recipients in the Degree category has doubled compared to last year, marked increase in the number of award recipients in the A Levels and International Baccalaureate  categories also.  About 13% of the recipients in this year's cohort are second time SEA recipients.
Photo and Information: SINDA