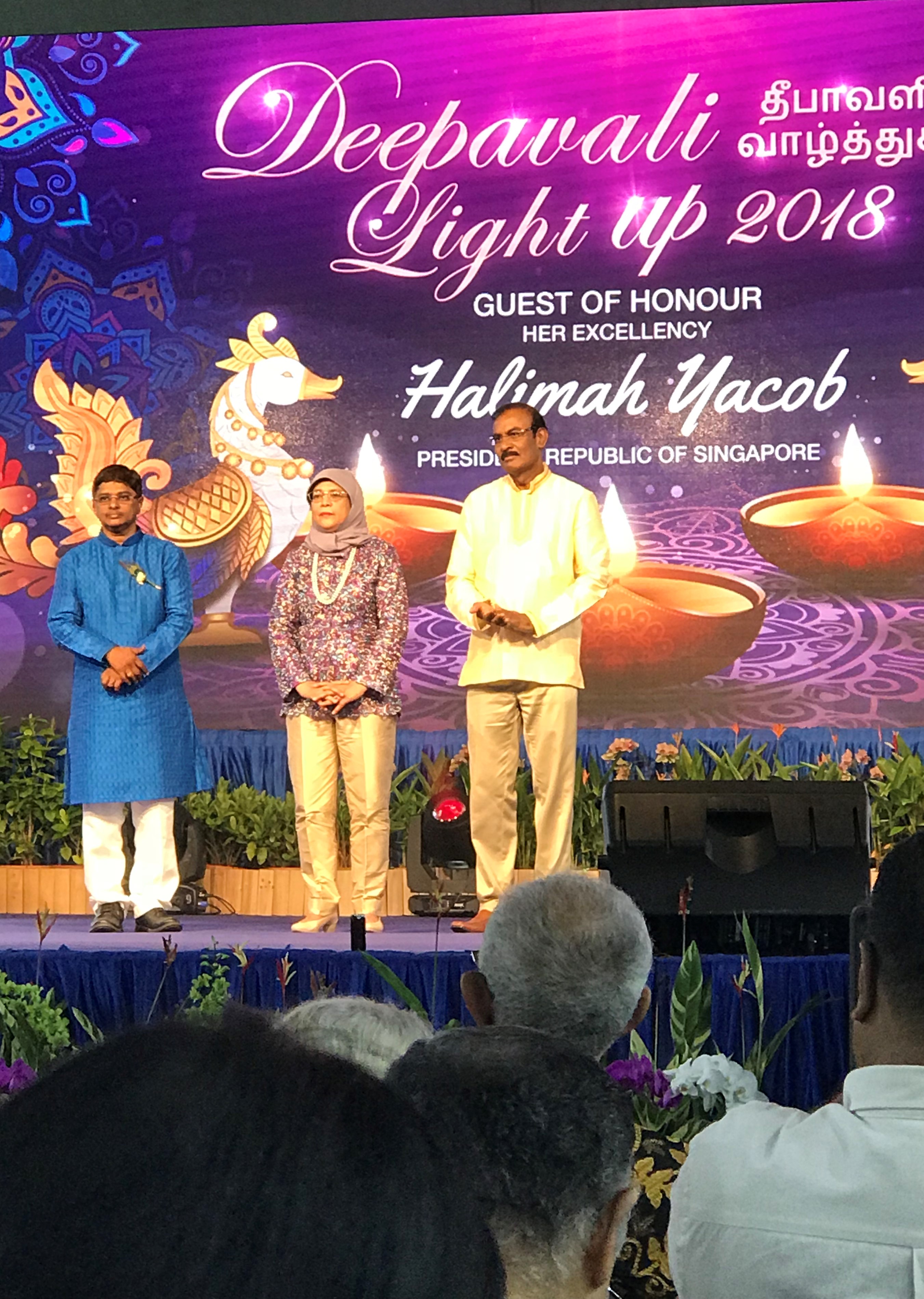 Mr Rajkumar, President, LISHA, Her excellency,  Halimah Yacob, President, Republic of Singapore and Mr R Dhinakaran, former NMP of Singapore during the official opening of the Deepavali light up ceremony
DEEPAVALI IN LITTLE INDIA, SINGAPORE
Deepavali, the festival of lights is an ancient festival in the Hindu calendar and a major event in Singapore. For the past 18 years, during Deepavali, LISHA (Little India shopkeepers and Heritage Association) has played a significant role in Little India by organizing the Street Light-up, Festival Village, Light-up Ceremony, Countdown Concert, and fringe events.
LISHA also organizes heritage exhibitions and interactive educational journeys together with various new initiatives during the festival.
LISHA has been co-organising the Deepavali Light-Up with the Hindu Endowment Board since the year 2001 and has taken the lead role in organizing the Light-up from 2012.
The Light up ceremony signifies the official opening of the Deepavali celebrations in Little India. This year, the street décor was inaugurated by Her Excellency, Halimah Yacob, President, Republic of Singapore, on the 22nd September, 2018.
Little India is now  dazzling with the most intense of colours, illuminated by the Deepavali light-up. Two main arches and 62 set pieces will be beautifully lit up showcasing the intricate architecture and elements of the ANNAPATCHI' – Indian Celestial Swan.
INDIANS IN SINGAPORE
Indian immigration to Singapore began in January 1819 with the arrival of Sir Stamford Raffles. Nearly 2 centuries later, the Indian population of Singapore has grown to a sizable strengths with cultural and religious diversity made up of Tamils, Malayalees, Telugus, Kannadigas, Bengalis, Sindhis, Sikhs, Gujaratis, Assamese and Nepalese. Each ethnic group has its unique culture, cuisine, language, script, art forms, traditions, festivals, attires and folklore.
LITTLE INDIA
The precinct of Little India will remind you of the sights, sounds and smells of Indian culture. Located along the most economical pockets of accommodation for backpackers, Little India is one the most colourful and vibrant parts of Singapore. It is also known for its varied range of commercial, religious, heritage and cultural entities amongst all ethnic districts of Singapore. Singapore Board (STB) recognizes Little India's unique value as a major tourist destination. The strong support from the agencies helped establish Little India Shopkeepers & Heritage Association (LISHA) to promote the precinct's heritage, culture, business and commercial activities.
LISHA's aim is to organise a successful Deepavali 2018 with interactive and creative events for both tourists and locals. Part of the event will also be about giving back to the community.
Information:  LISHA