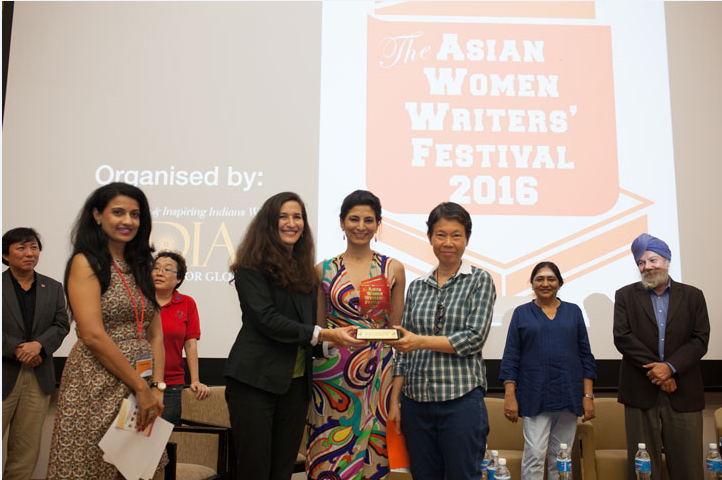 Asian women writers in Singapore and the region had a new and dedicated platform on July 1st and 2nd in Singapore in which they showcased their literary prowess.
The event was organised by Singapore based publisher India Se Media Pte Ltd.
The AWWF brought together accomplished authors from six countries across South Asia and South-east Asia.
They included India's top social commentator and author Shobhaa De and leading journalist Barkha Dutt, writers Josephine Chia, Jolene Tan, Krishna Udayasankar and Shamini Flint from Singapore, Noelle Q de Jesus of the Philippines, Fa Abdul of Malaysia, Sadaf Saaz Siddiqii of Bangladesh and Reema Abbasi of Pakistan.
All these writers have contributed significantly to the literature of their countries and region.
India Se Media, which has eight years of experience in organising literary salons,  instituted two awards for the AWWF – the Asian Woman Writer Of The Year and The Best Literature Teacher of the Year awards. Both the awards carry cash prizes. The former carried a cash prize of $5000.
"Promoting a love for literature through events like the Asian Women Writers' Festival will have long-term social and economic implications for women in making them financially independent and equal," said its Managing Director Shobha Tsering Bhalla.
The theme for this year's event was 'Parity For Women', a subject that has global resonance and which will keep alive and even fuel further  the conversation on equality for women as well as other disadvantaged and marginalised peoples.
With the growing importance of Asia in the world economic and political spheres and with Asian women powering much of this growth, the organisers felt the time is ripe to celebrate women writers of this region.
"Being a writer is not a capital-intensive business and barriers to entry are not high. One only needs to have the ability to write and a good imagination. But the effects are tremendous in bringing about parity for women – it is a great leveler. By organising the AWWF and encouraging writing in the region, we hope to be one of the catalysts in helping this dream come true," added Bhalla, a veteran journalist.
The AWWF will be an annual event. This year it showcased only those books which have been written in English but from next year, the AWWF will be expanding its panel to include translations and writers from Afghanistan, China, Indonesia, Iran, Japan and Korea.
Singapore's Wong Souk Yee and India's Anuradha Roy were Joint Winners of the inaugural Asian Woman Writer of the Year award 2016 .
About India Se: India Se Media was launched in 2007 by veteran journalist Shobha Tsering Bhalla (formerly of The Straits Times and TODAY). It is the only lifestyle magazine for Indians and South Asians in Singapore and the region. It was the first to start a literary salon targeting South Asian writers with its first literary festival in early 2008. India Se Media's book launches and readings are a regular feature of cultural life in Singapore and attract a dedicated following. In August 2015 it hosted the South-east Asia launch of Booker Prize nominee Amitav Ghosh's Flood Of Fire which drew a full house.