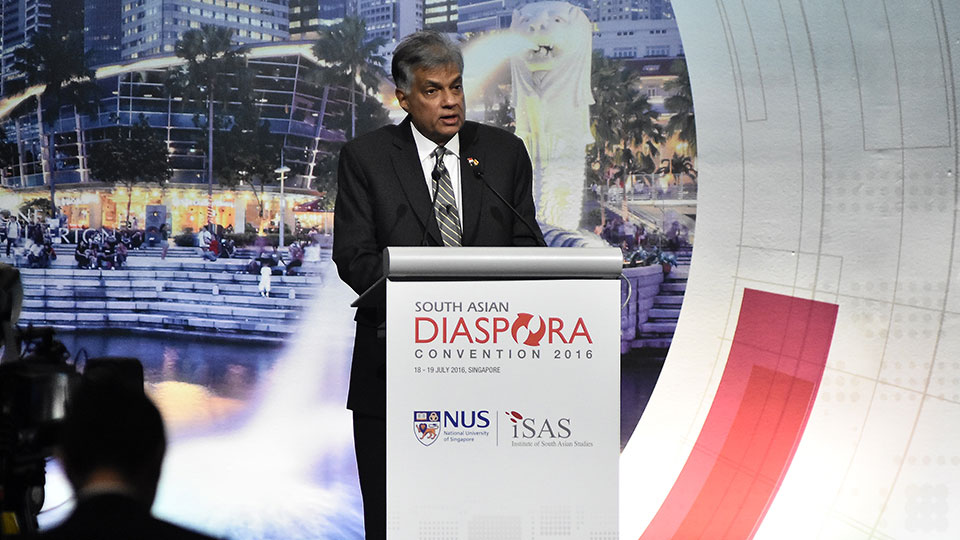 Photo Courtesy: ISAS
Sri Lankan Prime Minister Mr Ranil Wickremesinghe giving his key note address
The Institute of South Asian Studies(ISAS) at National University of Singapore organized its third  South Asian Diaspora Convention on the 18th and 19th July 2016 in Singapore.
Themed: 'Growth through interaction: The South Asian Opportunity', the two day convention attracted renowned policy makers, business people, academics and others globally.
Over 75 distinguished speakers and 1,000 guests attended this convention, which is now a signature event of ISAS.
SADC 2016 was lined up with 8 plenary sessions, 2 book launches, and in-conversation with Singapore's Prime Minister Mr Lee Hsien Loong with Indian's former foreign secretary Mr Shayam Sharan and more.
The speakers discussed and debated critical issues in business, economy and policy that affect the region's future and its role in global geopolitics in the 21st century.
SADC 2016 greatly reinforced Singapore's position as an important node for business networking amongst the South Asian Diaspora.
Sri Lankan Prime Minister Mr Ranil Wickremesinghe in his key note address said that,
"Today, with a population of 1.7 Billion and an impressive growth rate that the World Bank calls the highest in the world, South Asia is very much the place to be in.  Supported by low oil prices and high domestic demand, growth rates are currently high in South Asia. However there are limitations to domestic-based growth, especially for smaller South Asian economies.
South Asian Businesses need to respond to the new de-regulation sweeping global trade, taxation, financial management and business. In order to sustain medium and long-term growth, South Asia Governments must focus on further opening the national economies and promoting foreign trade and investments. This requires a structured and consistent reform agenda, macro-economic stability, free trade, decreasing deficits, improving the ease of doing business and an increase in public infrastructure investment across the region from 3.5 % of GDP to 7.5 %".
Mr SR Nathan was given the outstanding member of the South Asian Diaspora (OMSAD) 2016 award.