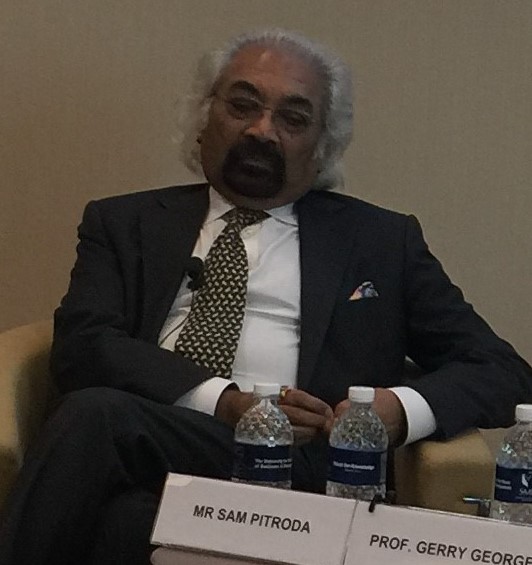 Mr Satya Narayanan known as Sam Pitroda is a true visionary. India's Telecommunication's success owes a lot to him, as he was instrumental in introducing the STD/ISD, PCO facilities throughout India.  Talking to such a person with a different perception is a true opportunity. It was during India's Prime Minister, Late Rajiv Gandhi's period, Sam Pitroda revolutionized India's Telecom Industry, as he says, 'Rajiv Gandhi in a sense, gave meaning to my life'.
Excerpts from his interview
1. What was your working experience with Mr Rajiv Gandhi?
Until Rajiv Gandhi gave me the political will, I never knew I could do my wish and make such an impact in telecommunication sector in India.  He gave me freedom and flexibility and support to build ouganisations. Over a period of time, we became good  friends, as we are of same age. He gave me full freedom and he left the development of India's Telecom Industry purely with me. Also all the other officials supported and there was no major conflict with anyone. So working under Rajiv Gandhi was a great opportunity.

2. What were the Challenges and innovations in the Telecom Industry during the 1980s?
We had to start from the scratch then, as we had no base. India was then focused on decentralization and privatization and we wanted to build industries based on the Indian model, like rural development, local production, digital network using young Indian talents. So we hired a lot of engineers from IIETs and other institutions. So everything then was a challenge.
3. Do you think the Telecom Industry in India has developed to its full potential today?
Yes. It has actually surpassed our expectations. With the limited expertise that we had then, no one expected billion phones in 2015.  The cost wise also it has came down a lot cheaper. So there is no doubt that, it has made a remarkable development.
4. To compete with the world class countries, what do you think should India do now?
First time in history, now India is connected well with the billions of its people. So India should capitalize on this connectivity and build a better country. So, they should take the broadband connectivity to improve the education, agriculture, health, governance sectors and create jobs.

5. What do you think is the most challenging in the policy making for India?
The most challenging would be to convince people that the change is inevitable and good and not to be afraid of the change. People of India are so much afraid of the changes.
6. If you could go back and change something in your career, what would you change?
Actually nothing, except that, I could have paid some attention to my health as I had heart attack and cancer. Though I have come out of it, I wish I had taken care of it.
7. Do you think the infrastructure in India is competent to support the rapid growth of information technology?
Each initiative needs a champion. The political will, the correct domain expertise, resource mobilisation, right management structure etc..should come together for the improvement and implementation of projects. If one thing does not support, then there tend to be a backlog of the project. So, it is a combination of things.
8. How do you see the entrance of Facebook focusing on rural areas. Who is the beneficiary? India or the Facebook?
Of course it is for Facebook and not for India. It is not Facebook that brings the Internet to India. So, the Facebook will be the beneficiary.
9. You talk of innovations in the existing University model. What will be that?
Instead of a fixed period of education, it has to be free learning. Universities should  be a place of learning for whatever you want to. So a parallel system outside Universities should be created and give students, hands on experience and provide a vast amount of information and they will learn based on those information. Instead of someone come and give lecture, they should motivate them.
10. What do you think is the key for one to be successful?
It has to come from one self. One has to self analyse and see which is suitable for them. It is not for society to do anything about it. When society does not accept something, one has to fight for it and should try to prove. The success/failure is not there outside. It is within oneself. One has to be self-driven.
11. You were in a Gandhian Boarding School. Could you tell us the important things that you had learnt there?
Yes. What matters in life is one has to be disciplined first. Next comes the analytical ability, creativity, respectful mind, ethics, global outlook, love for everybody, truth and simplicity. These are the things that I consider important in life.
12. Do you practice these things in life?
I try to the extent I can! Many things should be instinctive and one must do on their one and not everything can be taught.
13. You say you don't take success or failure to your mind. How do you attain this mental balance?
Because the things that go up comes down and the things that go down comes up. So there is no reason to bother about anything. You must just do what your mind and heart says. I am not religious, I don't do yoga nor meditate, follow any rituals, nor even shop. I just wear what my wife buys and eat the food that my wife gives when at home and when at office, I eat what my secretary gives. I am not part of any political party nor a member of any association. This how I am. That is Sam Pitroda!