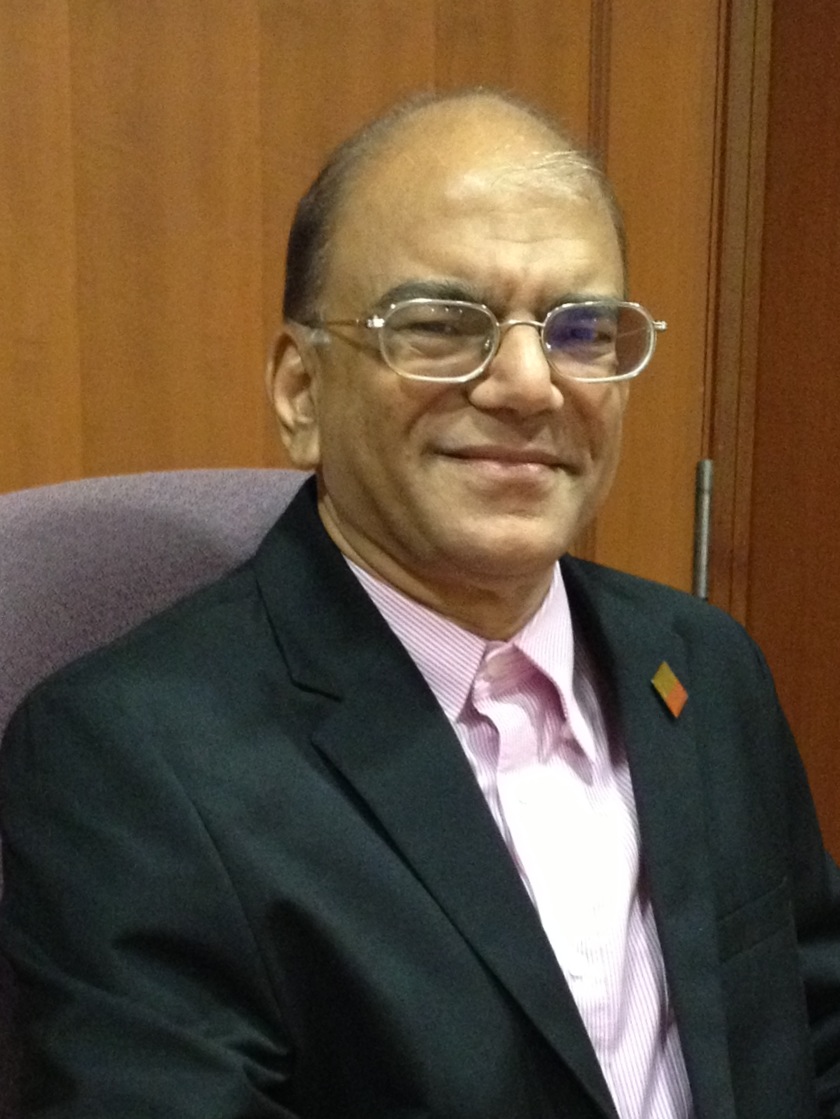 Mr Ameerali Abdeali is currently the President of the Muslim Kidney Action Association. He also serves as as a Council Member of the Inter- Religious Organisation, Singapore (IRO), as a Trustee of the Tabung Amal Adilfitri Trust and as President of the National Safety Council of Singapore. He also has several other positions to his credit. This multi-facet personality's exclusive interview in detail.
Could you tell us about yourself and your family to our readers please
I was born on 27 April 1951. I had a very enjoyable and carefree childhood living in a kampong known as Siang Lim Park at 40 Geylang. Those days, our fathers were too busy trying to survive and did not have much "quality time" to spend with their children. We, the children together with other kids would meet in the courtyard or the nearby park. With no TV for entertainment we had to be creative and invented games such as "kelengtong", "bola lobang" and "keledek" that only kampong boys could think. These games were not only enjoyable but they imbued in us leadership and social interaction skills which would prove invaluable in our adult lives.
I attended Primary and secondary school in Singapore and did my tertiary education in London England qualifying with a Bachelor of Science (Engineering) Hons in 1973.
My immediate family comprises of my wife Lulua and son Husain. I have a large extended family that includes 5 sisters and one brother and members of their families.
Throughout your career you have served with the Ministry of Manpower.  Could you share your experiences?
 I joined the Ministry of Manpower (MOM) (then known as the Ministry of Labour) in 1974 upon my return from England. My career spanned 32 years at MOM where I served in many capacities rising from factory Inspector to Head of General Factories Branch and in 1990 to General Manager of the Ministry's OSH Training and Promotion Centre. In 2006, I was appointed as Deputy Director of the Ministry's Occupational Safety and Health Division.
During my service with the government, I was responsible for the enforcement of the Occupational Safety and Health Act and other subsidiary legislations under the Act. I headed various departments and served in many technical and policy making committees. I also had the opportunity to present technical papers at numerous conferences, seminars and workshops organised in Singapore and the region. As GM of the OSH Training and Promotion Centre, I represented Singapore as a member of the ASEAN-OSHNET Coordinating Board.
'Safety' has been in your forefront.  Why is that?
In 1978, barely 4 years after I started my career, the Spyros disaster happened. A fire and explosion took place in the engine room of the oil tanker "Spyros" which was berthed in Jurong Shipyard for repairs. Together with my colleagues, I rushed to the scene.  I witnessed many bodies being brought out of the tanker. The tragedy claimed the lives of 76 workers and injured 69 others. This sobering encounter made me determined to work together with like-minded people to do everything possible to prevent accidents in workplaces. At the young age of 27 years I was appointed as the Secretary to the Committee of Inquiry which was headed by the Senior District Judge (SDJ). This was a rare opportunity for me to work closely with the  SDJ and the 2 other appointed Committee Members as the Inquiry was conducted. I learned the meaning of the word "responsibility" from this duty.
What are the challenges in implementing the safety guidelines in the work place?
There is no room for complacency as far as safety is concerned. The challenge for safety professionals is keep abreast with the fast pace of change taking place in industry and to ensure that new hazards arising from such changes are quickly anticipated with the appropriate safety measures put in place proactively. Also efforts to promote safety awareness must never stop so that new entrants to the industry are made to understand the importance of a safe working culture right from the start.We must never forget that victims of workplace accidents are human beings with hopes and aspirations who, as a result of accidents in the workplace, tragically lost their lives or ended up being permanently crippled or psychologically damaged.
Could you tell us about you promoting inter-faith and inter-religious harmony?
I am a strong believer and activist of inter-faith and community engagement. This is because I have lived through the traumatic period when Singapore saw racial riots in the 60s. Thankfully we enjoy today a high level of racial and religious harmony. There is goodwill and trust amongst people of different faiths more so here than in any part of the world. It is the result of hard work and dedicated efforts on the part of the Government, the grassroots organisations, the NGOs and the religious institutions.
I was invited to join the Inter-Religious organisation as a Council Member in 1996. This was a turning point in my life. So many doors opened to me. I learned so much from religious leaders who were such a rich source of inspiration for me.
I realised that in as much as we are from different backgrounds we are also very much the same in many respects. We are all part of the larger family of human beings. Our traditions and belief systems may vary but the basic value systems which underpin the established religions are essentially the same. This is because certain values and principles are universal values which are self-evident. These include concepts such as integrity, justice, compassion, fairness and respect.
 6. Could you also share with us your mission in imparting self-confidence and motivation in children and youth?
 I think every generation has a duty to motivate and inspire the next generation. I have been blessed to have many mentors in my life who helped me gain confidence and to serve our community to the best of my ability. I took several training courses to be a motivational speaker and upon qualification, I have been assigned to train new staff of MOM on the course for "7 Habits of Highly Effective People". After leaving MOM I continued to deliver talks on confidence building and developing self esteem especially to students and parents. I presented such talks at workshops organised by MENDAKI, SINDA, Tanjong Katong Primary School, Opera Estate Primary School, Loyang Secondary School and at various other sessions organised by private groups and organisations. In keeping with this interest in developing and conducting self-improvement programmes for students and young people, I currently serve as the Vice President of the Opera Estate School Advisory Committee and as a Director with Hope Villages Fund Pte Ltd which extends assistance to the people and children of PhumTria in Thailand and other villages in the region.
What made you start the Muslim Kidney Action Association?
 MKAC had its genesis in 1990 when Islamic Religious Council of Singapore (MUIS) invited representatives from 10 Malay Muslim organizations to form the Muslim Kidney Action Committee. I was appointed to chair this committee by the President of MUIS. We were given the charter to promote awareness on matters relating to kidney pledging and organ transplantation and to encourage more Muslims to pledge their kidneys.
Convincing the Muslim community about organ donation was an uphill task due to the prevailing mindsets at that time coupled with the lack of reliable information. Nevertheless, to increase public awareness, MKAC worked in close collaboration with MUIS and the National Kidney Foundation (NKF) to reach out to the community through public education programmes such as conferences, seminars and workshops, road shows. public forums, and through conducting of dialogue sessions with all Malay/Muslim organizations and with individuals from all walks of life.
In April 2004, MKAC was registered as an NGO with the Registry of Societies as the Muslim Kidney Action Association so that it could operate independently and raise and manage its own funds. I was elected as the President. Within one year it was given a Charity status by the Commissioner of Charities.  MKAC's vision is to see kidney patients realize their full potential and live happy and meaningful lives. MKAC believes that it is much better to invest efforts in empowering individuals to take charge of their own lives rather than to provide a crutch for people to lean on.
As of now, there are more than 435 Muslim kidney patients registered with MKAC. Taking into account the number of family members the total number of beneficiaries exceeds 1200 persons. Each of them face multiple challenges in life. They need to undergo costly dialysis sessions, take expensive medications and make regular visits to the doctor to monitor their condition.
We at MKAC do our best to serve their needs. These include the provision of financial assistance to kidney patients for dialysis and medical fees, free monthly general medical examinations and medications, one-to-one counseling sessions, skills training courses in sewing, cake making and food preparation, health talks, zakat disbursement and regular bonding sessions with kidney patients and their family members.  All our programmes are aimed to uplift the lives of our beneficiaries and in doing so we place great emphasis on the values of dignity, compassion, mutual respect, tolerance and understanding.
Are you involved in any other organisations?
 Yes. I serve as a Trustee with the Tabung Amal Aidilfitri Trust. Each year we raise about S$1.4 million during the month of Ramadan. We disburse between $200-$400 each to about 4,000 beneficiaries so that they are not deprived of funds to enjoy Hari Raya with their families. I also serve as a member of Mendaki's Community Leader's Forum (CLF) and as an Advisor to the United Indian Muslim Association.
9. Please also share your experiences in Community Mediation?
I am very honoured to be a volunteer CMC mediator with the Ministry of Law. I joined as a Mediator in the year 2000. I am also a Mediator with the Family Court of the State Courts since 2008.
I believe that most inter-personal conflicts and grievances arise from misunderstandings and poor communication and can be resolved without going to court. Mediation provides the best opportunity for such an outcome. To date I have mediated more than a hundred sessions. In the early days I did the mediations under the guidance Master Mediators from whom I learnt much the art of mediation. I also attended many training courses conducted by the respected Professor Dr Lee Lan Yuan. I was honoured to be promoted to Master Mediator in 2012.
I also learnt that as mediators we should be sensitive to the feelings of all parties. We must win their respect. When they get respect, they would appreciate it and give it back in return. Above all, we have to remain calm and patient all the time. As mediators, we do not take sides. Our duty is to do our best to settle the conflict and do it without fear or favour. Our goal is to help the parties build understanding and trust and view matters from new perspectives.
While I had given my inputs to resolve these cases we were trained not to offer solutions but to encourage the parties resolve the issues they have between themselves. Many times I encountered difficult cases with emotions running high. At times I had to separate the feuding parties and discuss privately with each party and this helped to restore calm. I learnt that each party feels that he or she is in the right and the other person is wrong. The challenge is to make the person put himself or herself in the shoes of the other person, suspend judgment and see things from a different angle. It was most satisfying when a conflict was resolved amicably with parties smiling and shaking hands.
Could you tell us about the 'Abdeali Tayebali Family Trust'?
I established the Abdeali Tayebali Family in 2012 in the memory of my father, the late Mr. Abdeali Hj. Tayebali. I wanted to honour my father's memory by doing something meaningful as I owe to him an unrepayable debt for ensuring that I received my education. My father emigrated from India to Singapore in the 1940s. Despite finding himself in a new environment he struggled to learn English and Malay and was able to found a business called Singapore Rattan and Cane Mart Pte Ltd. He was a devoted family man and noted for his philanthropy. He was an honourable gentlemen who had contributed much to the community and nation and to worthy charitable causes. He was also active in promoting of inter faith harmony and understanding and served as the Honorary Treasurer of the Inter-Religious Organisation (IRO) for many years.
The Trust support initiatives that
Advance education
Support deserving persons in financial distress
Promote safety and health in communities
Advance inter-faith activities and programmes
The Abdeali Tayebali Family Trust sponsors The Abdeali Tayebali Lifetime Achievement Award and the Courage Award. These Awards were set up in 2012 and is presented to individuals who best encapsulate the following ideals:
Demonstration of courage and endurance in the face of great challenge and adversity
Being a source of inspiration for others and a role model in the promotion of the spirit of adventure and sportsmanship in particular amongst the young in our society
Respect and consideration and sensitivity for the beliefs, cultural practices and traditions of people of all faiths and ethnicity
Concern for the general welfare of the community and an exemplification of dedication, compassion and empathy in the service of society
 The Award recipients are decided by a Panel which includes the Advisors of the Trust who are Mr. K. Kesavapany and Dr H M Saleem. To date 4 persons have received the Abdeali Tayebali Lifetime Achievement Award. They are: Dr. Kumaran Rasappan, Mr. KV Veloo, Hj Wan HussinZoohri and Dr. William Wan.
What are your other interests in life?
In the year 2000, while investigating an accident I was fascinated by the wide variety of plants in the rainforest of Temburong in Brunei. Upon my return to Singapore I was determined to learn more about our local plants and trees. I armed myself with many books about tropical plants and soon memorised the names of 2000 local plants and trees. I began to make regular visits to the Singapore Botanic Gardens (SBG). There I met Mr Keith Hiller who invited me to join the pioneer group of guides for the SBG rainforest. After undergoing the requisite training I was appointed as a Volunteer Guide. For the next 5 years I conducted guiding every Saturday for the public. I enjoyed this activity and learned much about the rainforest.
My other interests include keeping up with current events, poetry recitation, gardening and brisk walking.
You have received many awards and accolades.  Which touches your heart the most and for what reason?
 While I sincerely believe that there are many more deserving people for each award I have received, nevertheless I feel truly humbled to have been the recipient of a number of appointments and awards both at the national level, from various government ministries and from local NGOs. It was a truly humbling moment in my life when I was appointed to be a Justice of the Peace in 2008. I was re appointed as a Justice of peace for a further 5-year term starting from 2013.
Awards are gratifying because they validate and recognise our contributions. More importantly, they serve as reminder to continue to work even harder and put in our best efforts in everything we do. But it is important that whether we are recognised or not we continue to serve our community wholeheartedly because we believe in doing our best for the upliftment of the lives of the less fortunate members of our community. What touches my heart most is to see our beneficiaries stand on their own and become self-reliant. The quiet satisfaction we feel in helping others is the best reward there is.