POM POM DETOX
Ingredients
Watermelon juice- 2 cups
Fresh pomegranate- ¼ cup seeds
Pomegranate juice- ½ cup
Lime juice- 2 tsp
Ginger juice- 2 tsp
Honey- 1 tbsp.
Rock salt/ pink salt- ¼ tsp
Mint leaves- 10-12 no
Method
1. Prepare all the ingredients for the detox juice.
2. Chill the glasses to serve the same ahead of time.
3. In a mixing bowl or tumbler combine together the above ingredients and give it a nice stir.
4. We can also add lemon slices/ orange segments etc for more
Vitamin c and color contrast in the glasses.
5. Pour the chilled drink into the glasses, add more mint all the way for the refreshing element.
POMEGRANATE SALSA DELIGHT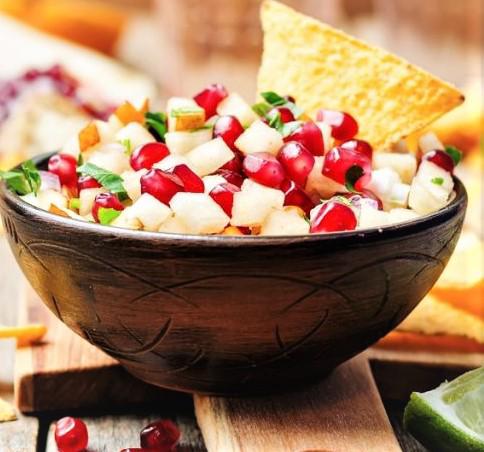 Ingredients
Fresh pomegranate seeds- ½ cup
Spring onions- 2 diced
Lime juice- 2 tsp
Green chilies- 1 tsp chopped
Tomatoes-  1 med sized cubed
Cucumber- 1 peeled and cubed
Chili flakes-1/2 tsp
Mixed herbs-1/2 tsp
Fresh basil- 8-10 no.
Feta/ cottage cheese/ processed cheese- ¼ cup cubes
Tomato ketchup-2 tsp
Red chili sauce- 2 tsp
Honey- 1 tsp
Coriander and mint leaves- 2 tbsp.
Olives- 2- 3 tbsp. sliced
Parsley/ micro greens- 2 tbsp. for plating and garnish
Nacho chips/ crackers to serve with as desired.
Method
1. Prepare all the ingredients for the salsa snack.
2. In a mixing bowl combine together the ingredients and give them a nice toss.
3. Add a little white vinegar or white wine if desired as well.
4. Arrange the nacho chips/crackers in a serving plater or platter and spoon up the pomegranate salsa into salsa bowls and garnish it.
5. Offer a little cheese sauce as well along with the salsa and the nachos for a perfect filling delicious snack.
QUINOA POMEGRANATE BOWL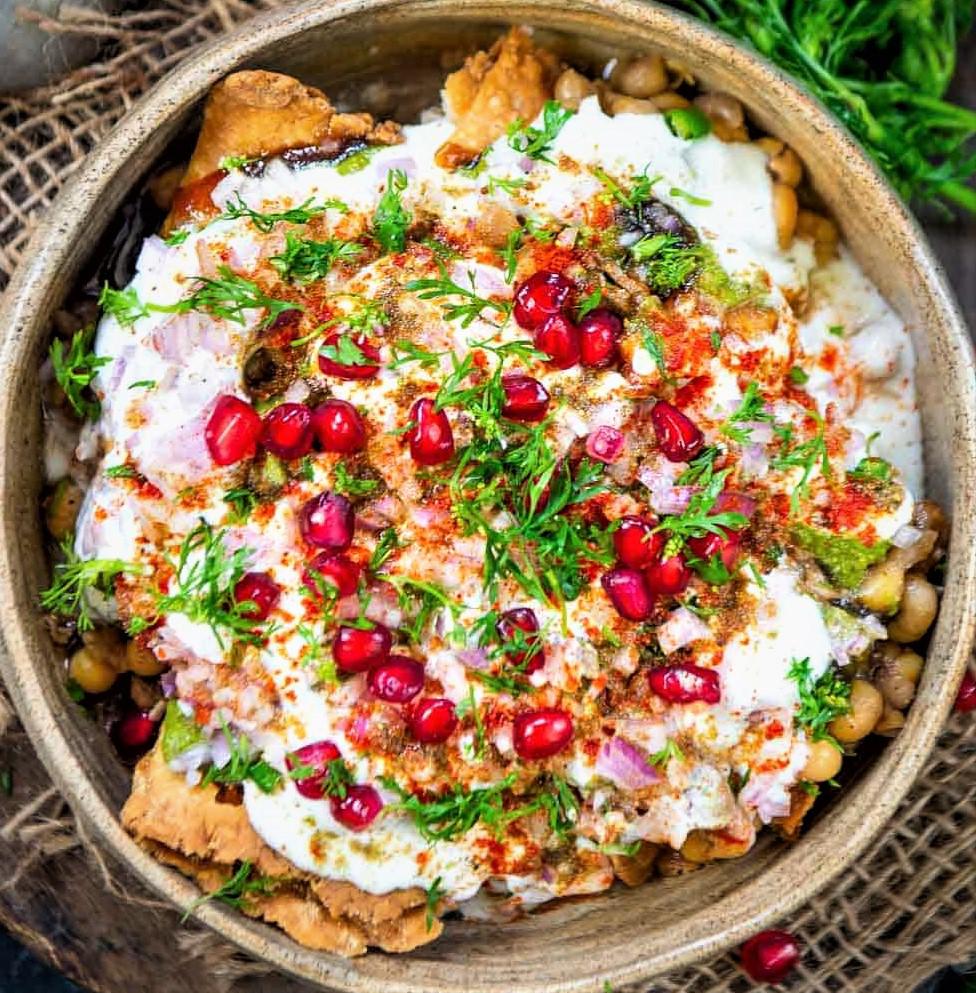 Ingredients
Fresh pomegranate-1 cup
Quinoa or brown rice may be used- 1 cup cooked.
Olive oil-1 tbsp.
Butter- 1 tsp
Garlic cloves- 2-3 chopped
Green chilies- 2 tsp chopped
Shallots/onion- 4-5 / 1 small chopped.
Bayleaf- 1 no
Peppercorns- 3-4 no
Salt and crushed black pepper to taste
Roasted crushed cumin powder- ½ tsp
Lime juice -2 tsp
Chat masala-1/2 tsp
Roasted nuts- 2 tbsp. assorted
Flax seeds/ melon seeds/ pumpkin seeds- 2 tsp
Boiled American corn- ½ cup
Assorted blanched veggies- carrots/ beans/ cauliflower- 1 cup mix.
Water/veg stock-1/2 cup
Mint/coriander/parsley/basil-  2-3 tbsp.
Method
1. Prepare all the ingredients for the recipe.
2. Ensure the quinoa or brown rice is cooked and cooled before continuing with this recipe.
3. Heat oil and butter in a pan add in the Bayleaf, peppercorns, shallots or chopped onions, garlic, chilies and give it a nice mix.
4. Add in the assorted veggies of your choice with corn and add seasonings, herbs, chili flakes to taste, also add in the spices and little water and allow to simmer.
5. Cook for 2-3 mins and add in the cooked quinoa or brown rice and turn off the flame.
6. Finally add in the fresh pomegranate seeds, lime juice, mint/coriander/basil and the nuts and seeds and serve as a healthy mini meal/ snack.
Ingredients
Fresh pomegranate seeds- 1 cup
Papdi/flat Puries- 10-12 no.
Boiled crumbled potatoes-1/2 cup
Khara boondi- ½ cup
Samosa/ Kachories- 2-3 no crumbled.
Boiled chickpeas/moong etc- ½ cup
Sev-2-3 tbsp.
Chaat masala-1/2 tsp
Lime juice- 2 tsp
Chopped onion- 2- 3 tbsp.
Chopped tomatoes-2-3 tbsp.
Chopped green chilies- 1 tsp.
Beaten curd- ½ cup
Tamarind chutney- 2-3 tbsp.
Red chili garlic chutney- 2 tsp
Green chutney- 2 tsp
Mint and coriander leaves- 2 tbsp.
Method
1. Prepare all the ingredients for the chaat.
2. Assemble the chaat into serving plates just before service.
3. Chaats are a versatile concept and can include any variety of ingredients available on hand and they just blend in well with the toppings of chutneys etc.
4. For non-veg options pick and choose between sliced chicken tikka, seekh kababs, saute prawns with butter garlic, roast sliced meat or simply boiled eggs.
5. Add in the chaat toppings and chutneys to taste and garnish the chaat with fresh pomegranate seeds, mint and coriander add a splash of fresh lime juice and serve immediately.
REVIVAL BOWL OF GOODNESS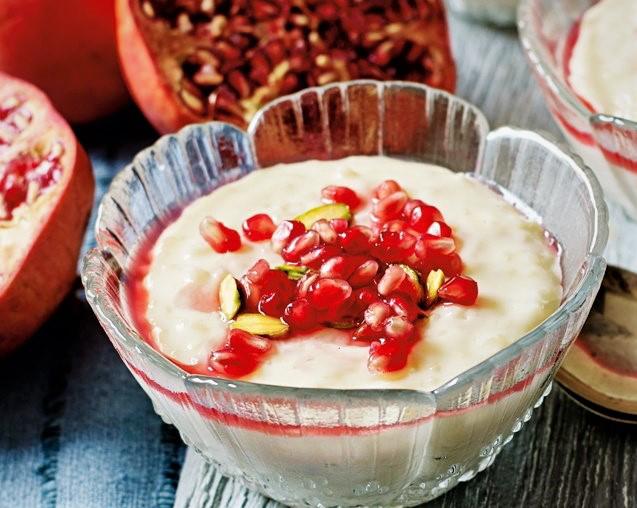 Ingredients
Fresh pomegranate seeds-1 cup
Curd/yogurt- 2 cups beaten – sweet or sour curd may be used
Crushed digestive biscuits/oatmeal cookies- 3-4 no
Chia seeds/ sunflower seeds- 2 tsp
Assorted chopped nuts- 2 tsp
Dates- 2-3 chop
 Mango/ Pineapple/ apple/ guava/ pears/ grapes- assorted fruits can be added to this bowl of goodness as per seasonal availability.
Method
1. Prepare all the ingredients for this quick fix dessert/ bowl of goodness.
2. Individual serving bowl or a pudding bowl may be used to set this recipe.
3. Pour the beaten curd at the base of the bowl, sprinkle the crumbs or soil made from the digestive biscuits, add in the fruits cut into small pieces, dates, sprinkle seeds and nuts of your choice and repeat the layers.
4. Top it with curd and fresh pomegranate seeds and garnish with nuts/seeds/ fresh mint and serve chilled.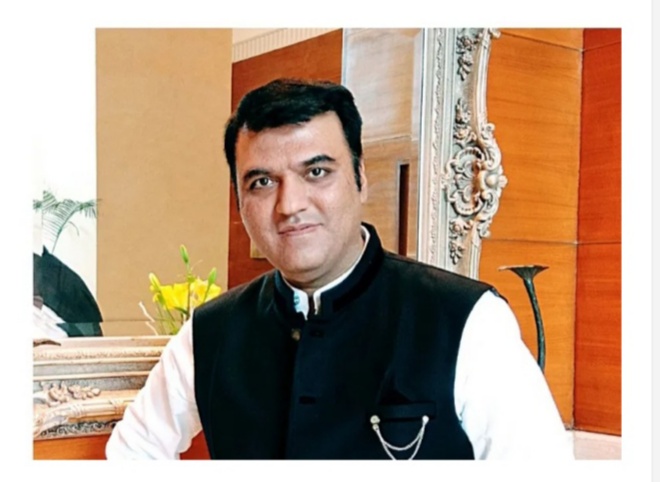 Dr. Kaviraj Khialani- Celebrity Master Chef, is a Mumbai based food- health & lifestyle consultant. With around 25 years of quality experience with hotels, airlines, consultancy – training & development he is a recipient of several national awards & global recognitions. Chef Kaviraj is specialised in over 33 international cuisines and loves fusion cooking, creating new recipes and sharing his experience with foodies around the globe. He has also been featured on star plus & colors television on several food shows. He may be contacted via email: chefkaviraj249@gmail.com / WhatsApp- 9820939336.