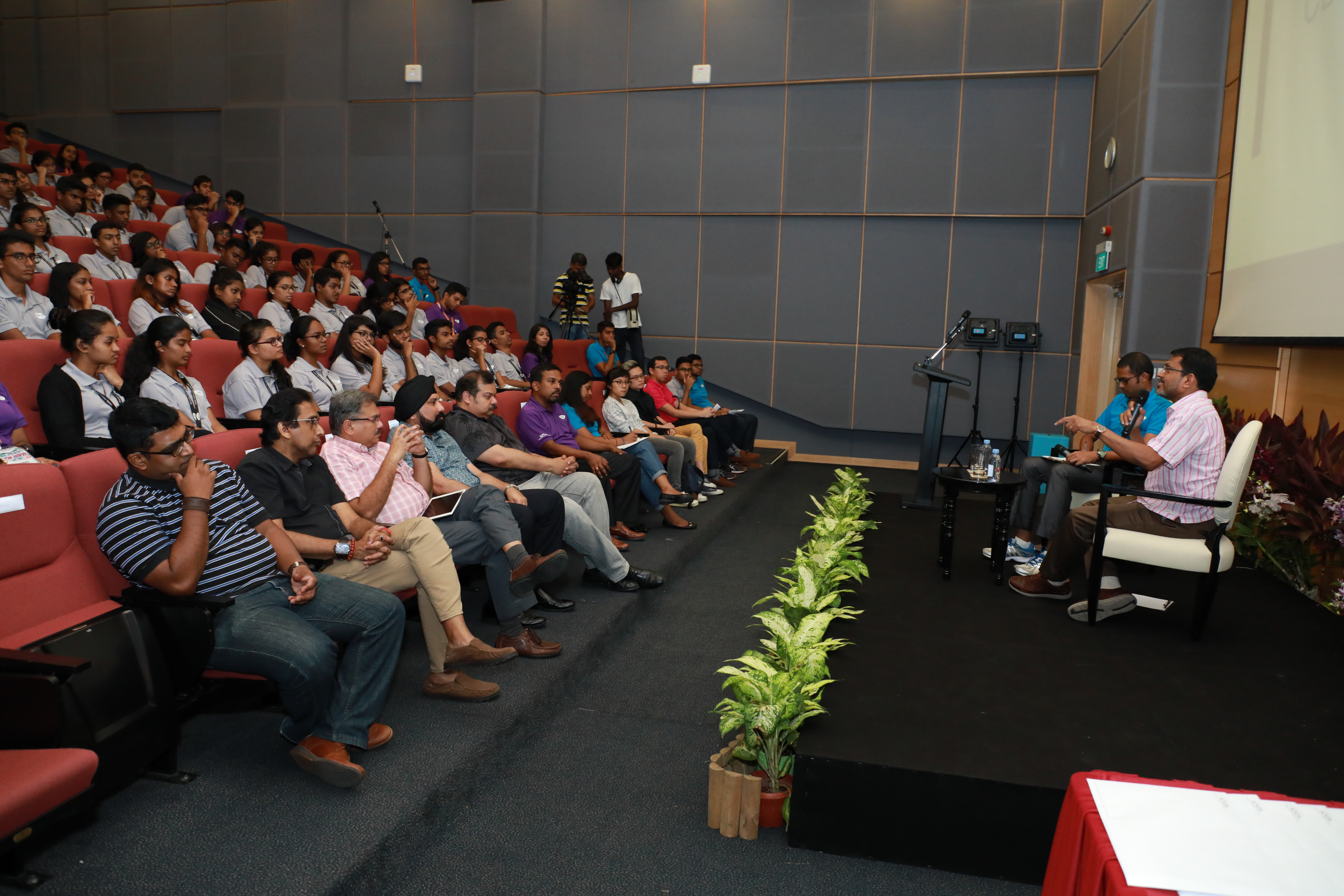 Dialogue session with Mr Ravi Menon
A Pledge to Make a Difference in Society Youths emerge inner potential to aid social causes in three-day leadership seminar
From  9 to 11 June – 106 post-secondary students from various institutions came to together to appreciate, explore and expand their leadership potential through the annual SINDA Youth Leaders Seminar (SYLS), organised by the SINDA Youth Club (SYC). This year's seminar, the 7th edition, was held at Prince George's Park Residence at the National University of Singapore.
2. Themed "Discover the Leader Within", the three-day overnight seminar was premised on the belief that all youth, when presented with the right opportunities and motivations, could develop into passionate leaders of social change. This was a significant shift from previous seminars, where greater emphasis was placed upon community service and social empathy. This year, participants were first encouraged to embark upon an inner journey of self-discovery to better understand themselves and emerge their potential, before translating this potential into beneficial solutions for social and community issues. This journey of self-discovery was augmented by various self-reflective sessions such as the 'leadership challenge model' as well as the 'social emotional learning'.
3. Said SYC member, Sarabjeet Singh Shaun, co-programme lead for this year's SYLS, "Each SYLS has its own unique flavour and this year, we focused on getting each participants to look within and find out more about their capabilities as a leader. This is an example of how SYLS continues to innovate and push the envelope when it comes to the experience of our participants. In essence, SYLS is a camp by youth for youth, to develop the skill sets and confidence in our participants to be youth leaders."
4. A key component of this year's seminar was the "Advocacy Challenge", in which participants met with non-profit organisations (NPOs) to better acquaint themselves with the different facets of their work and their challenges, and devised practical and creative solutions to aid these NPOs in their work. Participants visited the Society for the Prevention of Cruelty to Animals (SPCA), Migrant Workers' Centre (MWC), National Addiction Management Service (NAMS), Alzheimer's Disease Association (ADA) and Sustainable Living Lab (SL2).
5. Commenting on the Advocacy Challenge, Mr K Barathan, CEO, SINDA, said "While a number of assistance organisations exist at national and community levels, these function more as catalysts for change. Effective changes comes about at an individual level, when it is driven by passionate people who take a keen interest in the issues around them and commit to making a difference. That is why it is important to expose our youth to community and social issues from an early age. As future leaders, we want to start early in getting them thinking about how they can make an impact on the world and solve real-world issues. By making the commitment to be agents of change, I am confident that these youth can venture out and make positive advancements in the community through their actions."
6. On the last day of the seminar, students presented their reflections on leadership and their solutions to social issues to the Closing Ceremony's Key Speaker, Mr Ravi Menon, Managing Director of Monetary Authority of Singapore (MAS). "These students have put a lot of thought into the issues they have been told about and took the effort to understand them more deeply. That definitely is commendable as it says a lot about the potential of our youth." said the civil servant of 30 years after hearing all the project proposals.
7. Mr Menon candidly shared with participants on his leadership journey, the challenges he faced along the way and his thoughts on youth leadership. He also spoke about how the actions of a leader were more important than the position that he or she holds and that was what defined a leader. Bringing out the best in people one works with is a key trait of a good leader as leadership is a service aptitude and it should be cultivated right from the beginning. Earlier in the seminar, students also had the opportunity to dialogue with another stalwart of the Indian community, former Minister Mr S Dhanabalan.
8. These dialogues and real-world exposure to social issues were an eye-opening experience for participants and impressed upon them the role of youths in collectively solving community issues. One of the participants, Emmar Mohamed Aslam, shared: "My inspirations from SYLS 2017 were the important qualities exhibited by influential and successful leaders around the world. The camp was useful in raising my awareness on social issues prevalent in our society that were previously lesser known among the youth in the Indian community. Moreover, Indian youth participating in this camp could learn more about leadership and be better equipped with the necessary skills to be future leaders."
9. SYLS 2017 culminated with participants pledging to be more robust agents of change within their own spheres of influence. These pledge cards will be mailed back to the them in six months, as a reminder of their commitment. Participants will also go on to join other SYC programmes later in the year, to further their own development and groom their leadership abilities. Through such programmes, SYC is committed to inspiring, developing and empowering youth leaders to be active agents of change at community and national level.
Credit:  SINDA Press Release