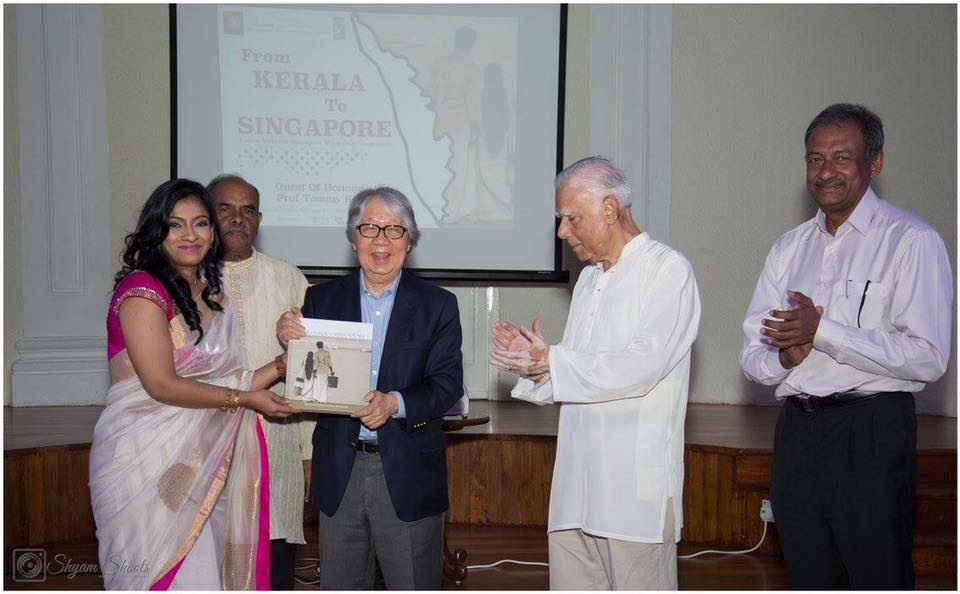 First Image: Book cover and pictures of some of the interviewees featured in 'From Kerala to Singapore: Voices from the Singapore Malayalee Community'
Ssecond image: From left to right: Dr Anitha Devi Pillai (Principal Investigator and first author of the book), Ambassador K. Kesavapany (President of Singapore Indian Association), Prof. Tommy Koh (Guest -of -Honour), Ambassodor Gopinath Pillai and Mr Jayakumar Unnithan (President of Singapore Malayalee Association)
An Interview with Dr Anitha Devi Pillai, the first author of 'From Kerala to Singapore: Voices from the Singapore Malayalee Community' and principal investigator of the Singapore Malayalee Story research project.
What made you embark on this research and what do you hope to achieve with the publication of this book?
The Malayalees are the second largest Indian community in Singapore and members of the community have made important contributions in the evolution of modern Singapore. Yet, my research shows that there is little documentation on these aspects. I hope that this book will go towards some way in filling this gap and helping readers to appreciate how the Singapore Malayalee community has maintained aspects of the cultural heritage even as they integrate into the larger Singapore social fabric. This book is as much an account of the migration and evolution of the Singapore-Malayalee community as well as an account of Singapore's history.
What were the challenges when embarking on this project?
The biggest challenge in this project was the amount of data and the different types of data that were collected to paint a composite picture of the community over the last hundred years. More than 130 interviews were conducted and each interview typically lasted at least an hour. About 400 photographs were collected and dozens of detailed family trees were drawn up. The drawing up of family trees and meticulous checking of the information was a time-consuming affair.
In addition to the interviews, I also spent a lot of time researching and documenting the lives of pioneers in the community from 1900s onwards. This is captured in my introductory chapter to the book.
Whatever the challenges were, the project was really gratifying. I got to know members of my community in a much richer way and have been able record their experiences for all to savor.
Could you share a few anecdotes from the book with our readers?
There were several interesting anecdotes.
For instance, even after the book has been published, I hear that some of my interviewees are related to one another or that someone's aunt's or uncle's picture has been included. This shows us that the Malayalees as a minority group within the minority Indian race in Singapore, they are a tightly knit community on the whole.
One of my interviewees recalled that she used her knowledge of Malayalam to learn Malay. She found several similarities between the two languages. As an applied linguist, I found that fascinating.
Their mother tongue, Malayalam, clearly plays a huge role in their lives. Although they were a small community, Malayalam was one of the languages used in a banner announcing a strike by Singapore Factory and Shop Workers' Union in 1955. Even potential political candidates delivered speeches in Malayalam as well in the early 1950s.
Reading seems to have been a favorite pastime amongst the early migrants. Hence, not surprisingly the community also boosts of having the only Malayalam daily newspaper outside of Kerala in the 1930s called Kerala Bandhu. The paper only ceased operations in 1977. By then the paper was known as Malaysia Malayali. They also set up several libraries to serve the needs of the bachelors who had moved here such as Naval Base Kerala library and Udaya Library.
Perhaps my favorite anecdote and discovery in researching on Singapore Malayalees was the use of images of the community on stamps. Despite being a minority community, we must have played a significant role to be featured in the first definitive series of stamps launched by Singapore in 1968, soon after independence. The theme chosen was Masks, Dances and Musical Instruments. The stamps reflected the culture of the three main communities, Chinese, Malay and Indians. The two stamps that depicted the Indian community were one on Kathakali mask and the other of a Bharathanatyam dancer modelled after Mrs Shanta Bhaskaran, a Malayalee. Both the dancer and the dance form to represent Indians were from Kerala. (link to the stamps : http://spm.org.sg/collections/singapore-collection )
Based on your research do you think one should be able to speak, read and write Malayalam to be considered a true Malayalee? Or do you think one's Malayalee identity transcends all these? What role does the language play here?
 What my research shows is that people identify themselves as a Malayalee in different ways. While knowing the language is a plus, I also met many Singapore Malayalees who were not able to speak the language but they identified closely with the culture in many different ways. There are many ways to define who is a Singapore Malayalee. This is the case with many other diasporic communities as well.
I may not read or write Malayalam. I do not even know what my name looks like in Malayalam but I speak the language with ease. I continue to express my identity as a Singapore Malayalee in many ways such as through food, dressing and leisure activities. My academic interest in researching the lives of Singapore Malayalees is another facet of how I identify with the community.
You stated that you were a fourth generation Malayalee in the book. As a fourth generation Malayalee who was raised in Singapore, could you describe your relationship with your mother tongue?
 I acquired Malayalam and English at home. I was exposed to Tamil throughout my life in Singapore, but I only learned it formally in school as a second language. We only spoke Malayalam or English at home. My mum in particular would only converse to us in Malayalam. My mother, Kamala Devi Aravindan is a Tamil and Malayalam writer, while my dad would switch between the two languages depending on the context of the conversation.
In all formal situations, I would speak in English. At other times, I will use Malayalam when I meet a fellow Malayalee and Tamil when I am speaking to a Tamil. I do not read or write Malayalam as I never attended any formal classes nor did I learn to read or write the language from my parents. But I speak Malayalam with ease.
I grew up watching a lot Malayalam dramas on stage, several of the dramas were written and directed by my mother. In the 80s, we had limited access to Malayalam movies and far less access to Malayalam songs. But the Malayalee communities in Singapore were active in organizing get-togethers and putting up shows such as Onam Night, Sports Day and drama competitions. My family and I attended all of it as much as possible. My mother was rather insistent that both her children were trilingual. It was at occasions like these that we got to speak and mingle with other Malayalees in Singapore outside of our family circle.
Today, the community has several other avenues to speak and hear the language as and when they want to do so. For example, Asianet – a Malayalam channel is available in Singapore. The advances in technology have brought the language closer to us. The growing migrant community too have actively created more opportunities for the youth to keep the language alive.
Malayalam drama seems to play a pivotal role in your book. What was it like watching Malayalam dramas as a child in Singapore?
The 'voices' in the book indicated that Malayalam dramas were an important aspect of the lives of the interviewees over the years. My parents always attended all the plays that were staged by the various Malayalee communities as well as the drama competitions that took place.
I do remember watching a few plays that touched on issues pertaining to Kerala. I must have been really young then. In fact, it was the interviewees who jolted my memory of these plays. The most memorable plays that I have attended were the ones that touched on social issues in Singapore. They were written by Singapore Malayalees and sometimes they even incorporated Singlish expressions in them making it all very relatable to the local Malayalee community.
Where can readers purchase this book?
 The book can be purchased from Singapore Indian Assocation at $40.00 and part of the proceeds go to the Singapore Indian Association Welfare Fund. You can call them at 6291 2556 to reserve your copy.
You can also purchase it from Kinokuniya or Times Bookstore at $48.15. Overseas readers can purchase the book on Amazon.
*****************************************************************************
Quotes about the book
The book was launched by Prof. Tommy Koh who made the following remarks in his address:
"What is the significance of this book to Singapore? This book is important for Singapore because the story of the Malayalees is part of the larger story of Singapore. The story of Singapore should not just be told by the government. It is everybody's story. The story of Singapore is a very big story within which we accommodate many other stories.  I am very pleased that the Malayalee community has written their story". (Prof. Tommy Koh, ambassador at large)
website: https://lkyspp.nus.edu.sg/faculty/koh-tommy/
Quotes printed on the back cover of the book
"The book is the result of the herculean effort by two young authors to tell the story of Malayalees in Singapore through interviews with a cross-section of that community. For those interested in the ethnography of the various Indian ethnic groups in Singapore, this book is a boon." Ambassador Gopinath Pillai, Chairman, The Institute of South Asian Studies
"This 'labor of love' will stand out as a gem in the literature of diasporic studies. Based on original and assiduous research, and with the inclusion of photographs and documents, many hitherto unseen, the book is a treasure trove of information on the Malayalee community in Singapore. As the distinguished academic Professor Anthony Palackal points out in the Foreword, it is 'the transformation from a Keralite to a Singapore Malayalee'. That transformation also takes into account the larger story of the national diaspora, which has made Singapore what it is today." Ambassador K Kesavapany, Adjunct Professor, Lee Kuan Yew School of Public Policy, National University of Singapore
"It is a brilliant work in auto-ethnography and a skilfully crafted work of 'sociological imagination' that beautifully combines experience, observation and reflection which makes it quite a reader-friendly book to all, academic and non-academic readers alike." Professor Antony Palackal, Sociologist, Loyola College of Social Sciences, University of Kerala.
"This is a superb collection of stories about migration. Here are tales of partings and loss but embedded in them are stories of new beginnings. Via descriptions of sea voyages, letters home to anxious mothers about failed culinary experiments and hints of assimilation such as the growth of Malayalee associations, these are narratives which display the manner in which the human spirit endures and develops and prospers in the face of change." Jaishree Misra, Author
 Comments by readers
Mr. PN Balji, writer and commentator, stated:
"The book is a treasure trove for Singaporeans who believe in Singaporeans who believe in Singapore's heritage. My daughter is reading the book now. I hope more young people will read it."
Dr Mary Ellis, Senior lecturer, National Institute of Education, reviewed the book and commented:
"My first impression of Kerala in 2015 was the cultural importance of reading; libraries and bookstores are prevalent. As an applied linguist and a librarian by training, it was clear to me that this community places a high value on literacy. The emphasis that the Malayalee community places on education and in maintaining their language was evident in the book too when I reviewed From Kerala to Singapore: Voices from the Singapore Community.