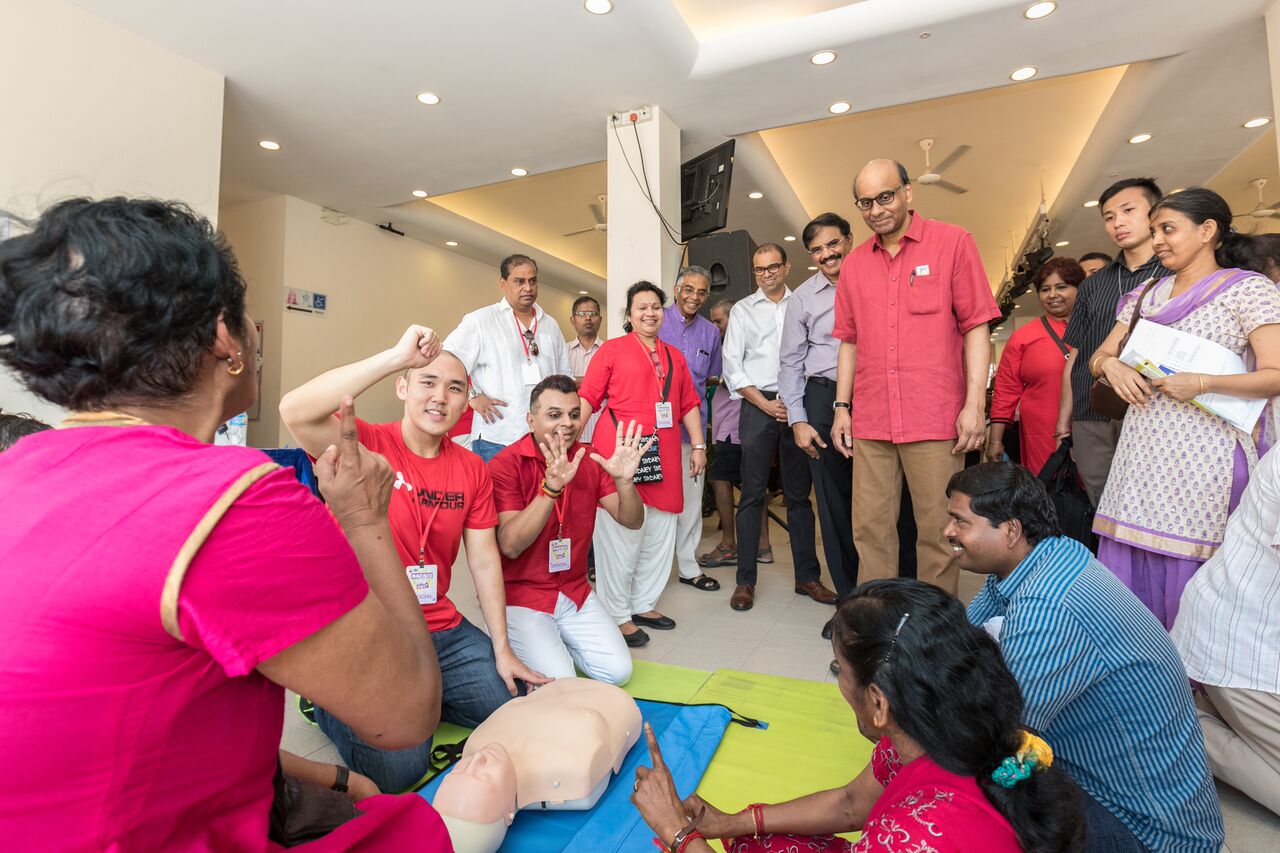 Mr Tharman Shanmugaratnam, Deputy Prime Minister, at the Health Fair
SUGATHARA VIZHA 2017 A HEALTH FAIR JOINTLY ORGANISED BY HINDU ENDOWMENTS BOARD AND MEDIACORP OLI 96.8FM
Sugathara Vizha 2017, a health fair jointly organised by the Hindu Endowments Board (HEB) and Mediacorp Oli 96.8 FM, was held on Sunday, 6 August 2017 from 8.00 am to 1.00 pm at the PGP Hall, Serangoon Road, Singapore.
It aimed to create awareness on common chronic illnesses, promote a healthy lifestyle amongst the Indian community and inculcate the importance of regular medical screening.
A total of 1,131 people benefitted through this.
Mr Tharman Shanmugaratnam, Deputy Prime Minister & Coordinating Minister for Economic and Social Policies was the Guest-of-Honour. Mr Tharman said,
"What is most impressive is the large number of health professionals, from both the public and private sectors, volunteering to serve and help people take care of their health."
Sugathara Vizha had more than 20 free health screening booths including those for colorectal and cervical cancer screening, dental screening, diabetic foot screening, and vision screening.
Women benefitted from the convenience of booking on site appointments for mammograms. The health fair also featured educational booths to bring awareness on CPR, eldercare, first aid, mind wellness and the harmful effects of smoking. Visitors to the fair got hands-on experience administering AED equipment which are critical in managing sudden heart failures.
About 150 medical professionals from various government and private hospitals, who serve as volunteers with HEB's Medical Support Services, conceptualised and ran the various screening stations at the health fair.
HEB says it is glad to partner Mediacorp Oli 96.8 FM for the third year running in this community initiative. Dr L Jayaram, Leading Cardiologist and Chairman of HEB's Medical Support Services Committee, said, "Our efforts to reach out to the community to create awareness on the importance of a healthy lifestyle has been far more effective through this partnership with Mediacorp. Over the last two years, we have seen increased participation. We have reached out to almost every segment of the community – the elderly, children, women, men and even youths – bringing to light health issues that are common to each of these segments and how to manage them."
Dr Chitra Rajaram, Head of Mediacorp Community Segment added, "Advocating an active lifestyle and taking preventive measures to lead a healthy life has always been an integral part of Oli 96.8FM's community outreach and corporate social responsibility. We are glad that this collaboration with HEB has grown stronger over the years and has become an event that the Indian Community look forward to."
Mediacorp Vasantham, which is the official television channel for Sugathara Vizha 2017, hosted a special 2-hour entertainment show with Vasantham artistes and DJs from Oli and Vasantham at the PGP Hall auditorium from 10.30am. Casts of Vasantham's popular long-form drama series Kalyanam 2 and Thallipogathey made special appearances, along with pulsating dance performances by Rameshwara. A highlight of the stage performances was a skit directed by veteran ex-Oli DJ and actor, Mr Re Somasundaram. There was also a segment by celebrity Chef Ariffin on healthy cooking and eating.
The HEB-Oli Health Fair was supported by the following agencies
• Singapore General Hospital
• Singapore National Eye Centre
• Singapore Dental Health Foundation
• KK Women's and Children's Hospital
• SingHealth
• National Cancer Centre, Singapore
• Institute Mental Health
• Singapore Cancer Society
• Diabetic Society of Singapore
Their future plans are to reach out to many in the community to create an awareness on chronic illness and fight against diabetes which is a National concern that has been mentioned by PM Lee Hsien Loong during this year's national day speech.