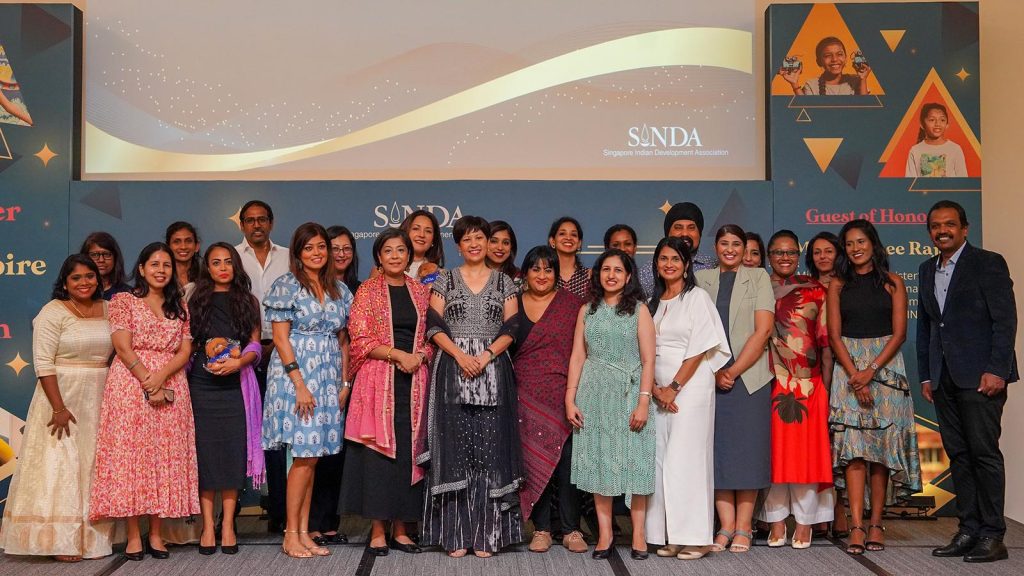 Women-focused Mentorship Launched to Grow Career Aspirations and Opportunities Mentorship launched by SINDA alongside MOU with SG Her Empowerment to increase young women's corporate exposure and skillsets; panel dialogue discusses women-centric issues and the importance of building resilience.
On 13 May 2023, Minister, Prime Minister's Office and SINDA President, Ms Indranee Rajah launched SINDA's latest mentorship initiative – 'Mentorship to Let Her Shine!'. This women-focused mentorship aims to nurture the career aspirations of young Singaporean Indian women, by providing them with career mentoring and access to female role models.
The launch event also saw the inking of a Memorandum of Understanding (MOU) between SG Her Empowerment (SHE) and SINDA, extending SINDA's partnerships with like- minded organisations that focus on women empowerment. The agreement will include short-term placements at various public and private agencies for young women to gain corporate exposure, and training to build their professional skills and knowledge.
Ms Simran Toor, CEO of SG Her Empowerment touched on the need for close cooperation between stakeholders and the larger community, "At SHE, we strive to empower girls and women in Singapore, so that they can meet their best potential. As the journey to a fairer and more equal Singapore is a whole-of-society effort, SHE works closely with the community and stakeholders to make this happen. There are clear and natural synergies between SHE's work and SINDA's Let Her Shine programme, and we are excited to embark on a partnership with them to support positive growth for the community."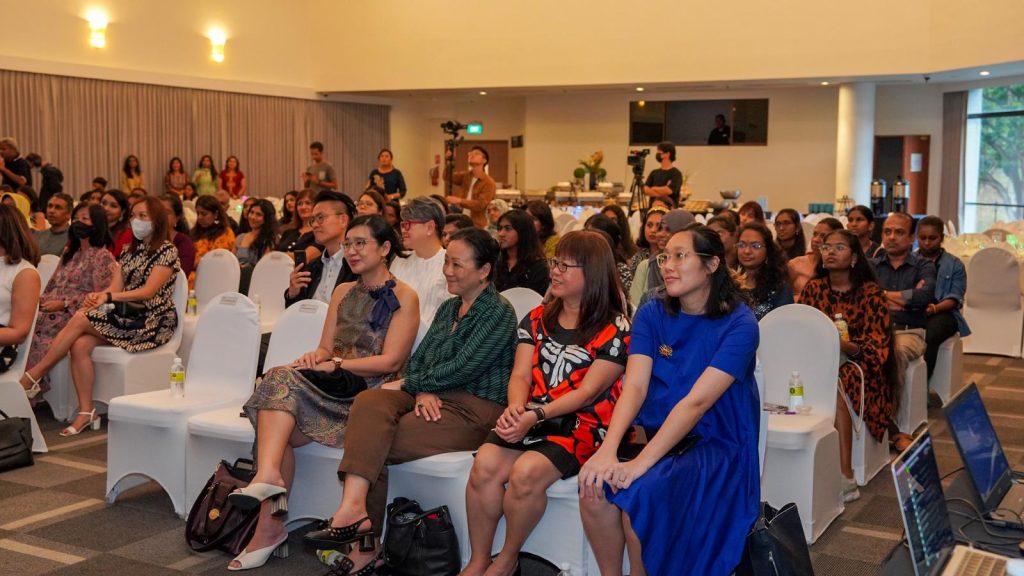 Both of these initiatives were introduced as part of the first-year anniversary commemoration of 'Let Her Shine!' (LHS), which SINDA launched in May 2022 to focus on the empowerment and aspirations of Singapore Indian women. LHS complements the recommendations from the White Paper on Singapore Women's Development and offers upstream measures to provide young women with the right knowledge, tools and resources to succeed in life.
The White Paper also highlighted the underrepresentation and lack of awareness of women leaders among female peers, which Mentorship to Let Her Shine! aims to address. The mentorship programme adopts a women-for-women model, with Indian women professionals mentoring young women. Through such opportunities, SINDA also aims to spotlight these professionals as role models to the community and younger generations.
The mentorship programme is envisioned as a year-long programme that matches mentees, aged 20 to 35, with mentors from industries that they are passionate in. These mentors will coach mentees on key skills, leadership attributes and specialised knowledge that will help them advance in their industries of choice.
The programme will start with 28 mentors who will each guide up to two mentees, and more mentors are expected to join the programme in the later stages.
Ms Praveen Randhawa, Partner, Brunswick Group, who serves as a SINDA Executive Committee Member and Chairperson of SINDA's Indian Women Development Taskforce shared the importance of mentorship and role models for young women, "The world today is increasingly complex and disruption is constant. It is critical to be able to successfully navigate challenges and this requires a combination of both soft and hard skills. Since the launch of Let Her Shine! last year, over 500 girls have benefitted from programmes designed to provide them with the right knowledge, tools and resources to succeed. Through Mentorship to Let Her Shine! the girls will now be able to benefit from the guidance and support of role models who are leaders in their industries and well placed to nurture their career aspirations."
Mentorship to Let Her Shine! complements SINDA's other mentorship programmes in supporting youth's holistic development. These include Mentor Me, a sustained programme for tertiary youths; and ITEnable Corporate Mentoring which helps ITE students gain real-world professional exposure
A participant of LHS programmes, including the STEMentorship programme, 20-year- old Ms Murugesan Karparatshambigai welcomed the mentorship programme. "As I am currently pursuing a Diploma in Health Management & Promotion, I found the STEMentorship programme eye-opening as I learnt about alternative career pathways that I could explore. With the launch of Mentorship to Let Her Shine!, I look forward to meeting successful women leaders who can further my career aspirations in the healthcare industry, and whom I can look up to for inspiration."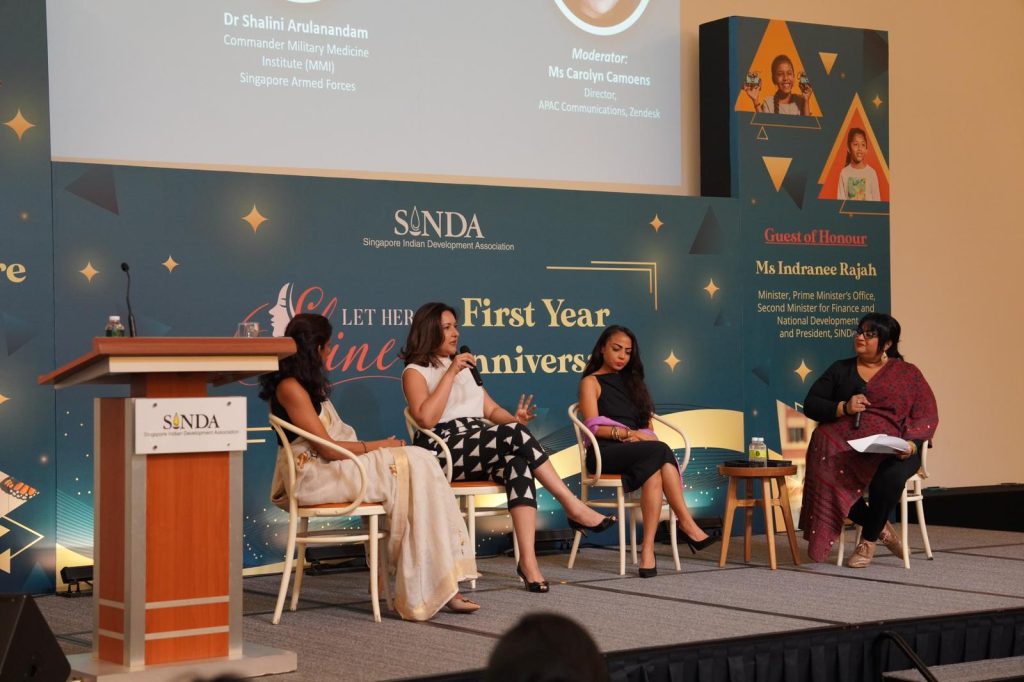 Participants at the commemorative event also heard from an all-women panel discussion, which comprised CEO, SHE, Ms Simran Toor and other professionals. The panel discussed themes revolving resilience and sustainability, including navigating adversities and professional challenges, workplace disruptions, overcoming burnout and the importance of exercise and nutrition.
CEO of SINDA, Mr Anbarasu Rajendran, emphasised the importance of collaborative efforts and partnership for community betterment: "SINDA's focus remains on the upliftment and betterment of the Indian community. 'Let Her Shine!' serves as an important pillar in this mission, through providing opportunities and platforms for Singaporean Indian women to discover and develop their potential and strengths. We're very grateful for the various individuals and organisations that have partnered us in these efforts, offering their expertise, knowledge and programmes towards making our goals for the community a reality. Through our collective efforts, we can continue to provide meaningful opportunities that will help more individuals in the community succeed in life."
Since launch, LHS has benefitted close to 550 girls and young women, aged 7 to 35, through a series of long-term programmes and workshops that promote personal development, build self-confidence and resilience, and instil lifelong skills in participants. The programme aims to support the development of 1,300 girls and young women in 2023.
The first anniversary commemorative event was held at YWCA Fort Canning with 100 guests, including mentors, Indian community representatives and industry partners.
Photos and information courtesy: SINDA's press release