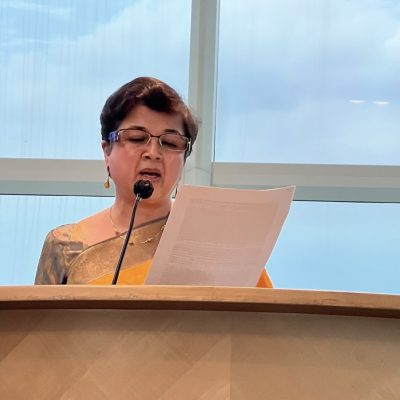 LAUNCH OF CHICKPEAS TO COOK, 7TH JANUARY 2023
 – NILANJANA SENGUPTA
Chickpeas to Cook, & Other Stories (Penguin Random House) by yours truly, a book that was a labour of love and had been 3 years in the making, was launched on 7th January 2023, 6 pm at the NLB Pod. 
The Guest of Honour was Dr Sudha Nair, member of the Singapore Presidential Council of Affairs and a revered social activist who spoke very articulately about not only the book but how she had found resonance of the book and its characters in the work she did with the women of Singapore.
"But this invitation also led me into Nilanjana's world. My readings for the last decade or so has been mainly on interpersonal violence, the multiple pathways of harm , the impact of violence on children, and family Therapy texts. I thought , when I first started reading the book that it would be different from my usual reading. So I was pleasantly surprised to see the parallels between her writings and my readings. This book is about interconnectedness – of religion, culture , values and beliefs and its interplay in the lives of real people. I deal with religion , culture and values that maintain beliefs in families which can celebrate or harm. Chickpeas to Cook is a book that is about women, their place in society and their voices , and how the interplay of religion, traditions, culture and their values have impacted them in different ways. On a daily basis I listen to women's voices and the challenges they face in trying to make sense of their intersections in society. This is my life's work.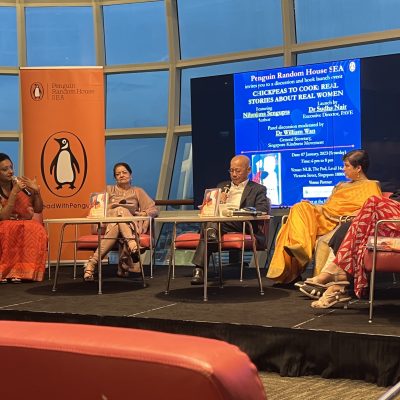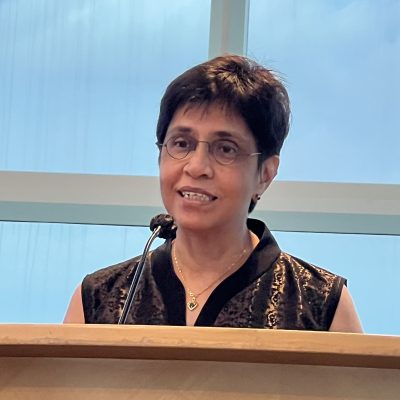 I meet many women from different backgrounds – similar to those mentioned in Nilanjana's book. And though some elements may differ, there is at least one common thread between them all. A strength to endure all that passes. A strength to hold a family together. Or a strength to seek help. These women are moulded through fire and brimstone – whether it be from a difficult upbringing, an unhappy marriage or even a civil unrest."
The speech by the Guest of Honour was followed by the launch of the book and a beautiful reading of some of the stories from the book by acclaimed actor and theatre personality, Ms Daisy Irani. Which was then followed by a panel ably helmed by Dr William Wan, General Secretary of Singapore Kindness Movement. The panel members were women drawn from various communities and religious backgrounds and they spoke very eloquently about the plight of women and the various kinds of social and work-life discriminations they encounter in their every day lives. 
The after-panel Q&A centered around questions of religion – how religion has become the bone of contention in many countries, disrupting entire civilizations, and how Singapore might just be the last bastion where multi-religiosity and multi-culturalism has survived in the modern-day world.
Chickpeas to Cook by Nilanjana Sengupta is a book about women from some of the smaller communities of Singapore – communities that at times are no more than a 100 families and at the risk of disappearing as mainstream urban cultures threaten to take over.