Mr Aroomugam Parasuramen, a democratic leader from Mauritius was born to serve people.  The results of his achievements have an impact on the life of people far and wide.  To know more about this, please read his interview. He is fondly called as 'Dasen'.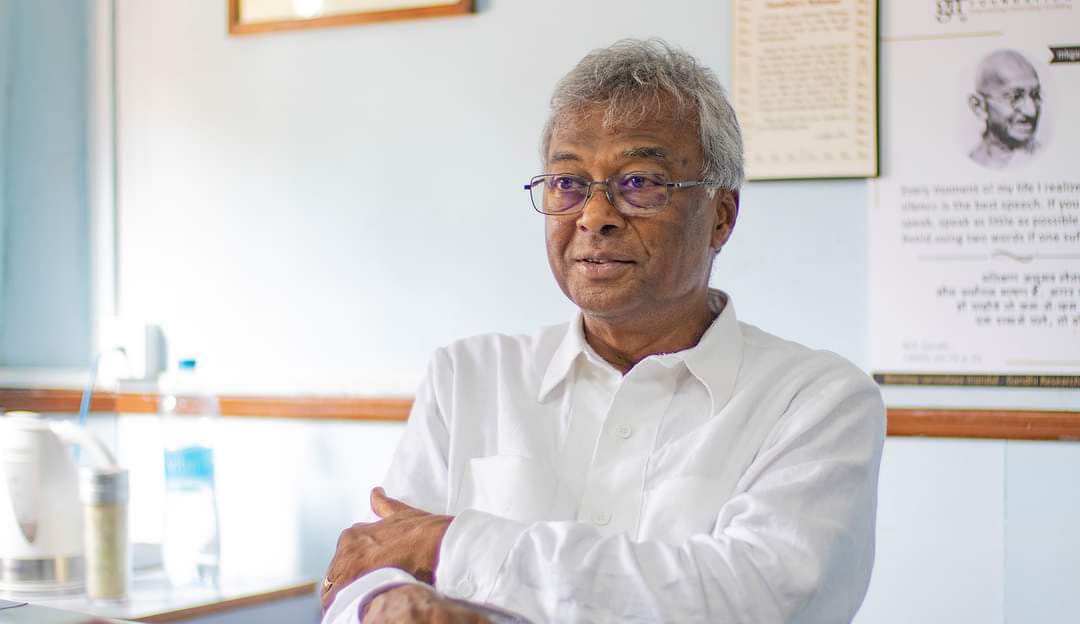 Could you share with us the little boy 'Dasen's' experiences and perceptions on this world then?
I had a modest upbringing and was a child born in the village called 'Cap Malheureux', Mauritius, in a Thatch setup. Hence, 'Desan's' experiences itself meant a lot. My parents though did not study much, they wanted their children to get higher education and instilled the faith of God in us and even today that stand as a strength in me.
I have always been in social service. I began my social work in the Temple as part of the association, then I joined politics in the village and District council levels. I was the eldest in the family of 11 and got to be responsible and I have been supporting my family all the way. That has been my philosophy in life to do my best for my family equal to my career. My commitment to my family now overrules my struggle in my young days. Hence, I am a complete man now.
2. What was your family's reaction when you joined politics?
My father was very involved with the local Temple activities and I have followed him since my young age. So my family has been into social service. As social service was natural in the family, they did not object me entering politics.
3. Can you tell us about your initial stages in politics?
When I joined National politics, I was supported by the Labour party, which was contesting the ruling party. The leader had a different ideology and I was attracted to his phrases that we should do politics differently to the 'spiritualisation of politics'. This struck with me as I always wanted to serve people as I started with a modest life-style.
4. What sort of reforms did you bring out when you were the Minister of Education?
I was appointed a Minister in 1983 in a strong coalition Government. I was 31 years old then. After nine months, there was a split in the Government and there was major political crisis and the Government broke due to divergence of economic policies.
1980s was the period when World Bank and IMF was applying for structural adjustments for the countries with bad economic condition. Mauritius was one amongst them. I would consider my reforms after conducting talks with the World Bank, having in mind that Mauritius has no natural resources and dependent of the human resources.
5. What was the support system from the World Bank and IMF?
They agreed to give financial support on some conditions. There were 22 private secondary schools under-functioning in Mauritius then and one of the conditions was to close those schools. In 1982, the then Government blindly followed that condition and closed those schools. The teachers were sacked without any compensation and the teachers went on a hunger strike. The students were sent to different schools. That Minister, who was in our opposition party was removed from the Ministry. Our party was so generous and dissolved our party and helped him create a new party. I became the Minister in March 1983.
6. How much support did you get from the Ministry then?
With the support of the Prime Minister, who was a visionary and a practical man, I was fortunate to work on the policies, which I thought was right for the future of Mauritius, I told him that we cannot accept the World Bank conditions, as we have no natural resources and dependent on human resources.
I went to the USA, explained the world Bank President on the nature of Mauritius and the reasons why we cannot accept their conditions and the way forward that we want to develop our Nation. World Bank accepted my explanation. Then based on that, we re-worked on the school system. The teachers were re-admitted to school and we moved on.
7. Down the years, could you recall your achievements in the Ministry of Education?
1n 1991, after eight years of my service in the Education Ministry, I presented the World Bank, 'World recognized Master plan for Education' in Mauritius. I was asked to go to UNESCO, Paris for six months and write down on my reforms in the Education sector to share the experiences with all the other countries of Africa. Hence Mauritius then stood as a testimony in the Education sector to all the other countries of Africa.
8. How was the Master plan looked as by others?
It was looked as a plan for the people and by the people. World Bank leaders and all the others commended the plan. So, it was a huge success and I was consequently appointed to World Bank.
9. Which area was the most drawn for you then?
Though I had policies in general, I had special interest for the vulnerable children. I am more a leader from the heart that from the head. I always have concern for the low profile people and strive to work towards uplifting their lives.
10. How was your service at UNESCO?
I was eager and looking forward to work at the UNESCO as there's more areas of work to explore – Education, culture, Arts, Science and Communication. My experience in my Ministry was in direct connection with my work at UNESCO. So I had understood the needs of the people and how to approach the issues more easily. Hence I would say my reforms made a difference not only in Mauritius but also in many African nations. I retired at the age of 60, as a director of UNESCO, which is really a high rank position.
11. Can you tell us about the 'Global Rainbow Foundation'?
The history of 'Global Rainbow Foundation' is a new phase of my life. From scratch, I reached the greater heights in life. So, I thought after my retirement, I should give back to society. Hence I started this organisation in 2011. We have set up an Indian branch recently and tied up with IIT research Centre, Chennai, we also have another branch in New Delhi and Mumbai. So it is now global.
12. Your efforts to promote Tirukkural….
Yes. I have special interest in the Literature of Tirukkural and I am taking steps for UNESCO to recognise Tirukkural as a Universal literature, to have a statue and a medal of Tiruvalluvar there. My ultimate aim is to spread the values of Tirukkural globally through UNESCO. Recently, I have submitted a paper to the Prime Minister of India on the above.
13. What is the secret of your success?
I have been having a holistic life. My three daughters are doing quite well as, one is a doctor, one is a lawyer and one is a magistrate. Looking back at my 71 years, I don't see the struggle, as both struggle and prosperity come hand in hand and for me the prosperity weighs more. Throughout, I have dedicated myself and I am satisfied with what I do. Now I happily do my voluntary job as I am touching the lives of many people, as 'giving' gives more satisfaction.
I leave things to God and he knows to take me to the right destination.
Article By
Ms. Rukmini Dahanukar