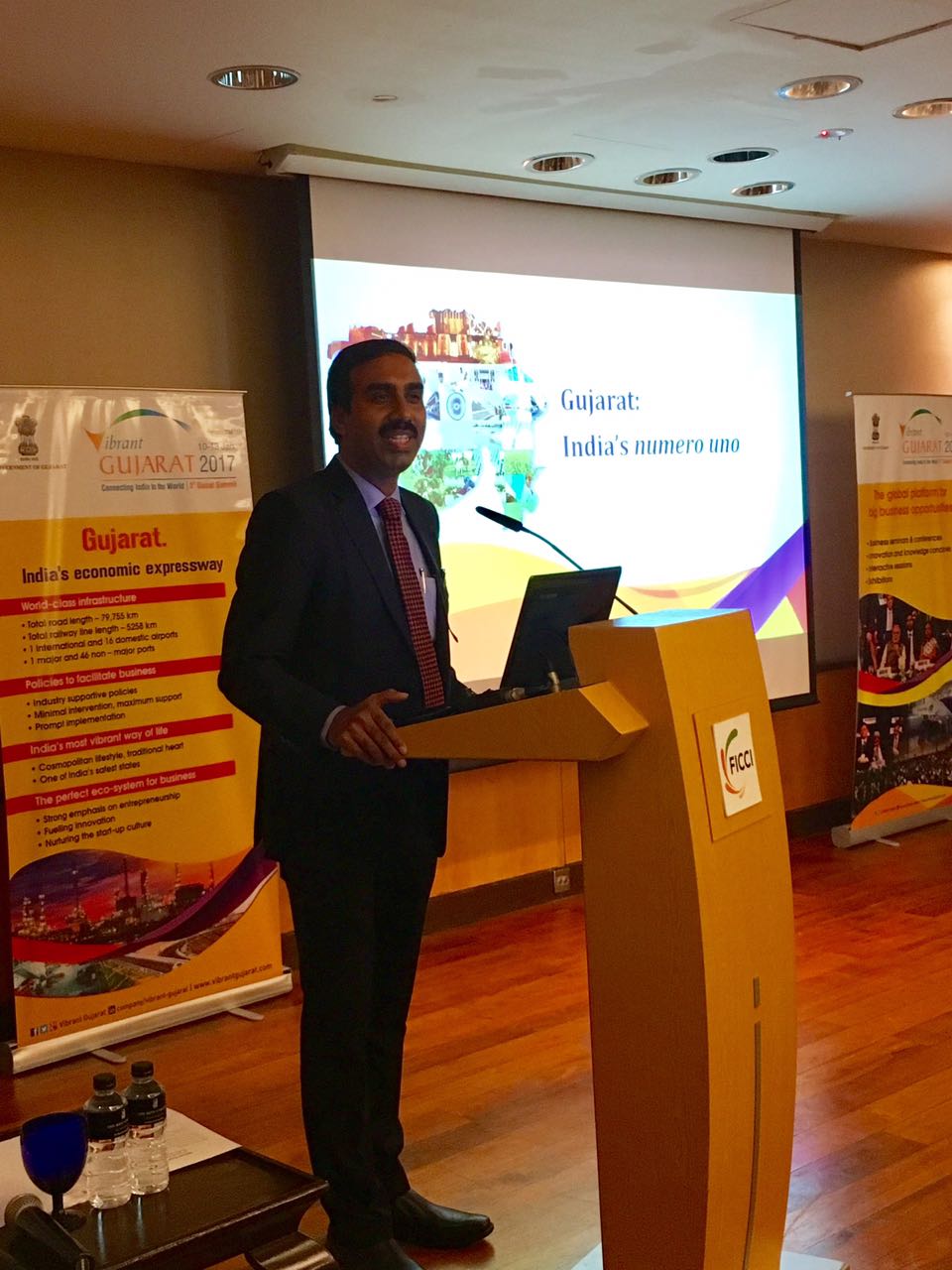 The Indian delegation from the state of Gujarat held its roadshow at Ritz Carlton, Singapore on Oct 12, 2016.
At the event, the delegation leader Mr. Ashwani Kumar, Secretary to the Honourable Chief Minister of Gujarat shared the investment opportunities offered by the state.
The delegation shared the potential that India has for investors and the scope it offers for collaborations in the state of Gujarat.
Gujarat is scheduled to host an investment summit in January 2017. The biennial summit will enter its 8th edition in 2017 and is known to be the biggest investment summit by any state in India.
The delegation leader, Mr. Kumar also threw light on the Gujarati community and their culture, calling them a community of entrepreneurs sighting names of some of the stalwarts of India who belong to the state.
The event was attended by Her Excellency, Mrs. Vijay Singh Thakur, High Commissioner of India to Singapore and the opening address was given by Ambassador Gopinath Pillai, Chairman, Institute of South Asian Studies.
The delegation also comprised of Gujarati Industry leaders like Mr. Jitendra Shah, Managing Director, Tipsons Financial Services Pvt. Ltd, Mr. Paresh Vasani, MD – PCB Power / Circuit Systems India, Mr. Nilay Patel, CEO – Easy Pay and an investor from Taiwan, Mr. Liou, Jia-Ciao (Gary) from Maxxis (Cheng Shin Rubber).
At Singapore, the delegation hosted two round table conferences and interacted with Singapore International Chambers of Commerce, Urban Development Authority, Antara Koh, Surbana Jurong, National University of Singapore, Singapore University of Technology and Design, Singapore Semiconductor Industry Association, Boustead, Blackstone and Temasek Holdings.
Speaking on the visit, the delegation leader, Mr. Ashwani Kumar said, "I am delighted to share that through our meetings in Taiwan & Singapore, we have been able to encourage potential investors to understand the various opportunities offered by the state of Gujarat. I was overwhelmed to see these meetings end with a healthy round of questions mostly pertaining to opportunities specific to GIFT city and possibilities of meeting potential partners on the sidelines of the Vibrant Gujarat Global Summit 2017. I look forward to welcoming everyone at the summit scheduled in January 2017"
photos and article: Formal press release issued by the Government of Gujarat