Mrs Padmini Kesavapany  has a special interest to bring an authentic flavor to the dishes and explores in detail the ways to make them.  Here she shares her recipe on 'Avial' a Kerala dish.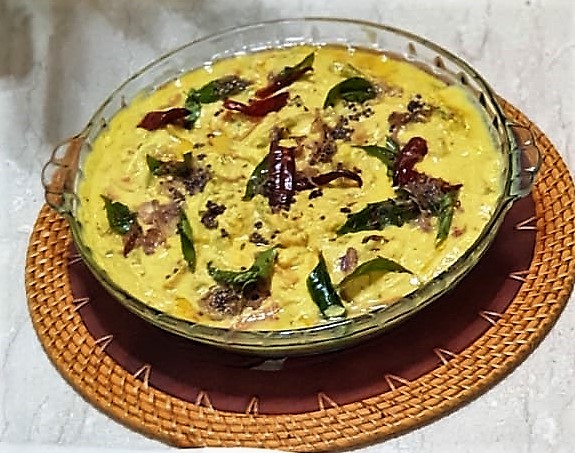 AVIAL
Avial is a dish from Kerala.  It is served at most festive occasions.
Ingredients
Long Beans – 150 grams;
Carrot – 100 grams;
Raw Bannana – 200 grams.
(All cut julienne to the same length and thickness)
2. Pounded dried chilli – 1 table spoon;
Cumin powder – 11/2 teaspoons
Salt – 21/2 teaspoons
water – 21/2 cups.
(combine and bring to boil.  Add vegetables)
3. Thick yoghurt – 1 cup
pounded green chillies -3
(combine and set aside)
4.  Grated coconut – 1 cup
Cumin seed -1/2 teaspoon
small sized onions -100 gram
water – 3/4 cup
(Grind to find paste and set aside)
5.  FOR TEMPERING
Curry leaf – 2 stalks
Dried Chillies – 2 (broken)
Mustard Seed – 1 teaspoon
Cumin Seed – 1/2 Teaspoon
Sliced Small Onions – 20 grams (optional)
Coconut oil – 1/8 cup
(to fry the above)
METHOD
Cook Vegetables listed in  number one (do not overcook)
Add yoghurt and grated coconut mixture and allow to boil once ( do not boil till dry)
Fry those listed in number five and add to the Avial, when it is still hot.
NOTE:  Standard Americal cup and spoon (level) measurements are used for this recipe.