BAKED BEANS TO RELISH & TREAT THE PALATE
Power packed with goodness & taste
Baked beans originate in Native American cuisine, and are made from beans indigenous to the Americas. The dish was adopted and adapted by English colonists in New England in the 17th century and, through cookbooks published in the 19th century, spread to other regions of the United States and into Canada. Baked beans is a dish traditionally containing white beans that are parboiled and then, in the US, baked in sauce at low temperature for a lengthy period. In the United Kingdom, the dish is sometimes baked, but usually stewed in sauce. Canned baked beans are not baked, but are cooked through a steam process.
They were originally called BAKED beans because the can is first filled with blanched beans, then the sauce, then the can is sealed with a lid, and it is then that the cooking begins. The beans are cooked inside the sealed can. The original recipe for Heinz Beans was based on Boston beans, so they used to contain pork. Baked beans provide fiber and plant-based protein. They're also a good source of thiamine, zinc, and selenium, which support energy production, immune function, and thyroid health, respectively. Did you know Brits eat beans for breakfast? We do and this is because England is known for its Full English Breakfast (picture below) consisting of sunny-side up eggs, English back bacon, cooked tomato slices, black pudding (sausage), mushrooms and fried bread. Baked bean originated in the U.S.
Navy beans are called haricot beans in England and also go by names such as Boston beans and white pea beans. Baked beans on toast is often served for breakfast as a part of a fry up (the British term for a Cooked English Breakfast). More to the point, can tinned white beans swimming in a vivid tomato sauce justifiably be called a superfood? "But baked beans provide protein, fibre and micronutrients including thiamine, copper and manganese, so they are a nutritious food.
Let us look at a few culinary applications of Baked Beans:
Baked beans are a good source of fiber, thiamine, copper, phosphorus and lycopene which overall rates it quite well in terms of beneficial offerings.
Some of the ways in which baked beans have been used are well known to us the idea is how to make it more creative and interesting to apply a creative mind to the concept and make it more acceptable.
1. Baked Bean Cheelas with sour cream dip and tossed green salad is a good way to enjoy a brunch with added flavors of curry leaves, cumin seeds, coriander, green chilies.
2. Baked Bean Ragda Pattice has been one of my early time favorites and the fusion of giving it a rustic tadka with garlic, onions, chilies and a dash of rock salt, placed on the chaat plate topped with schezuan tamarind chutney is just awesome.
3. Baked Bean Pan Rolls, this one calls for a mix-n-match approach in which we temper the beans with herbs, chili flakes, ginger, olives and parsley and then roll them in between ragi pancakes/dosas and top it with a pepper salsa, cheese and bake.
4. Baked Bean Stuffed Mexican Kofta Curry, this one is a must try as well. A sweet potato outer covering flavoured with fennel and cumin, the inside softy filling with puree of baked beans cooked with mava and desi masalas, shaped into koftas, deep fried, steeped in a peri-peri mexi makhani sauce.
5. Baked Bean Ravioli Al Fresco, a square shaped fresh home-made pasta with a cheesy baked bean stuffing, boiled/ fried and served with assortment of dipping sauces flavoured with white wine, gherkins, olive oil, fresh basil and parmesan shavings.
6. Baked Bean & Olive Pao Bhaji, one that will call for a second helping or even more on your plate. A typical desi pao bhaji concept involving the beans, cauliflower, peas, potatoes, capsicums, cooked in butter and oil, tempered with the pao bhaji spices, tomato puree, coriander leaves and served with splash of lime, pickled onions and olives, and a nice jalapeno cheese masala pao.
Let us check out a few Easy & Tempting Recipes with Baked Beans:
Recipe-1] Baked Bean Wraps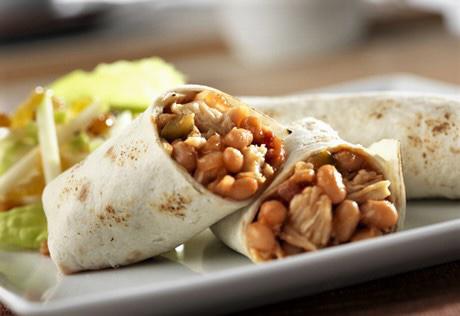 Ingredients:
For the Wraps:
Maida-1 cup
Oil-2 tsp
Salt-1 pinch
Water-as needed to make a firm dough
Rest for 20 mins, divide into 5-6 portions, prepare thin chapattis and cook them on both sides.
For the spread options on the wraps:
mayonnaise-1/4 cup
Schezuan chutney- 2-3 tsp
Green chutney mayo-2-3 tsp
Hung curd spread with mint and cucumber
For the filing of the wraps:
Baked beans in tomato sauce -1 cup
Oil-2 tsp
Butter-1 tsp
Garlic-1 tsp chopped
Green chilies-1 tsp chopped
Onion-1 small chopped
Salt and pepper to taste
Boiled chicken- cubes/shreds-1/2 cup
Grated cheese-1/4 cup
Mixed herbs-1/4 tsp
Chili flakes-1/4 tsp
Kasuri methi-1 tsp
Garam masala powder-1/4 tsp
Tomato ketchup-2-3 tsp
Coriander-1 tsp chopped
Lettuce leaves-1 cup
Sliced olives/ gherkins/ cherry tomatoes as needed
Method:
1. Prepare all the ingredients, assemble them as required for the recipe.
2. Prepare the wraps, cook them on a tava and keep aside.
3. Heat oil and butter in a pan saute the garlic, onions, chilies, add in the canned beans, seasonings, herbs, chili flakes etc and cook for 2-3 mins, add in the ketchup, spices, and coriander leaves and mix well, switch off the flame, cool aside.
4. Re-heat the prepared wraps on a tava, apply little oil/butter, and remove, place the lettuce leaves, prepared filling, add in the assorted veggies/olives, gherkins, cheese etc and give it a nice roll up.
5. Place in a tray and bake it if desired for a few mins with a topping of white sauce and cheese, serve hot.
Recipe-2] DESI BAKED BEAN CASSEROLE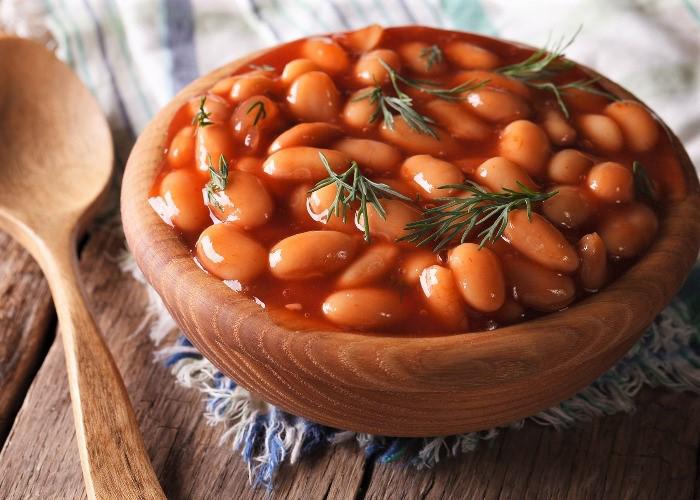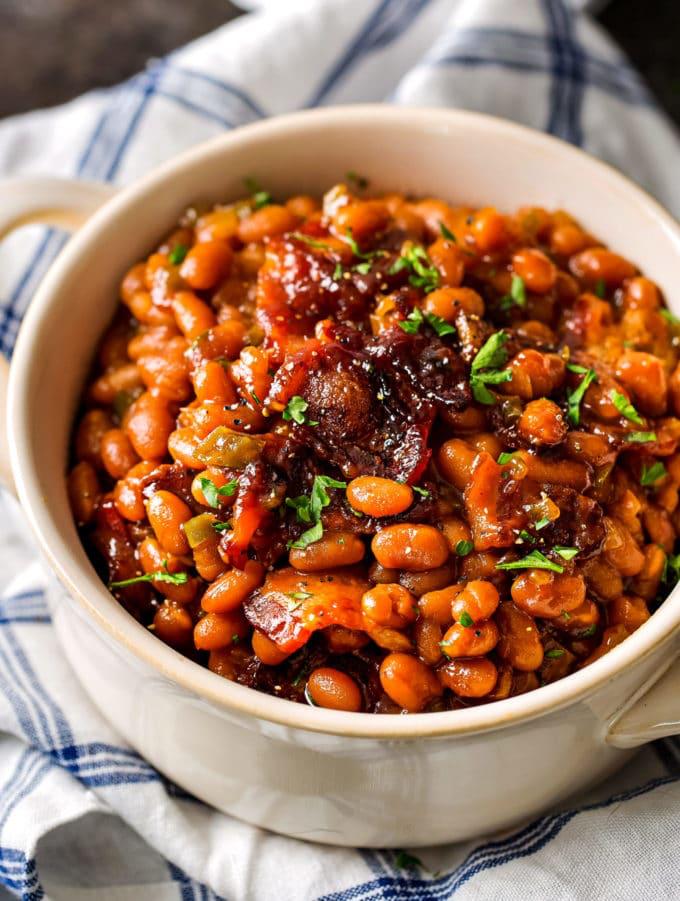 Ingredients
Oil-2 tsp
Butter-1 tsp
Cumin seeds- ½ tsp
Hing-1/4 tsp
Dried red chilies- 1-2 slit
Ginger-garlic paste-1 tsp
Onion-1 small chopped
Tomatoes-1-2 small chopped
Salt to taste
Baked beans in tomato sauce- 1 cup
Chicken sausages-2-3 sliced
Baby potatoes- 4-6 no cut 1 x2 boiled
Red chili powder-1/4 tsp
Coriander powder- 1 tsp
Turmeric powder-1/4 tsp
Tomato puree-1/2 cup
Cashew paste-1-2 tsp
Peanut butter-1-2 tsp
Water-1/2 cup
Coriander -2 -3 tbsp. chopped
Method:
1. Prepare all the ingredients for the baked bean recipe.
2. Heat oil and butter in a pan saute the spices for tempering, add in the ginger-garlic paste, onions, tomatoes saute for a minute.
3. Add in the boiled baby potatoes, sausages, salt and all masalas and mix well. Add in cashew paste, peanut butter and a little water, cover and simmer it, Cook for 2-3 mins, garnish with coriander leaves.
4. Serve this delicacy with toasts, pitta bread, lavash, focaccia bread etc.
Recipe- 3] INDO WESTERN BAKED BEAN BAKED DISH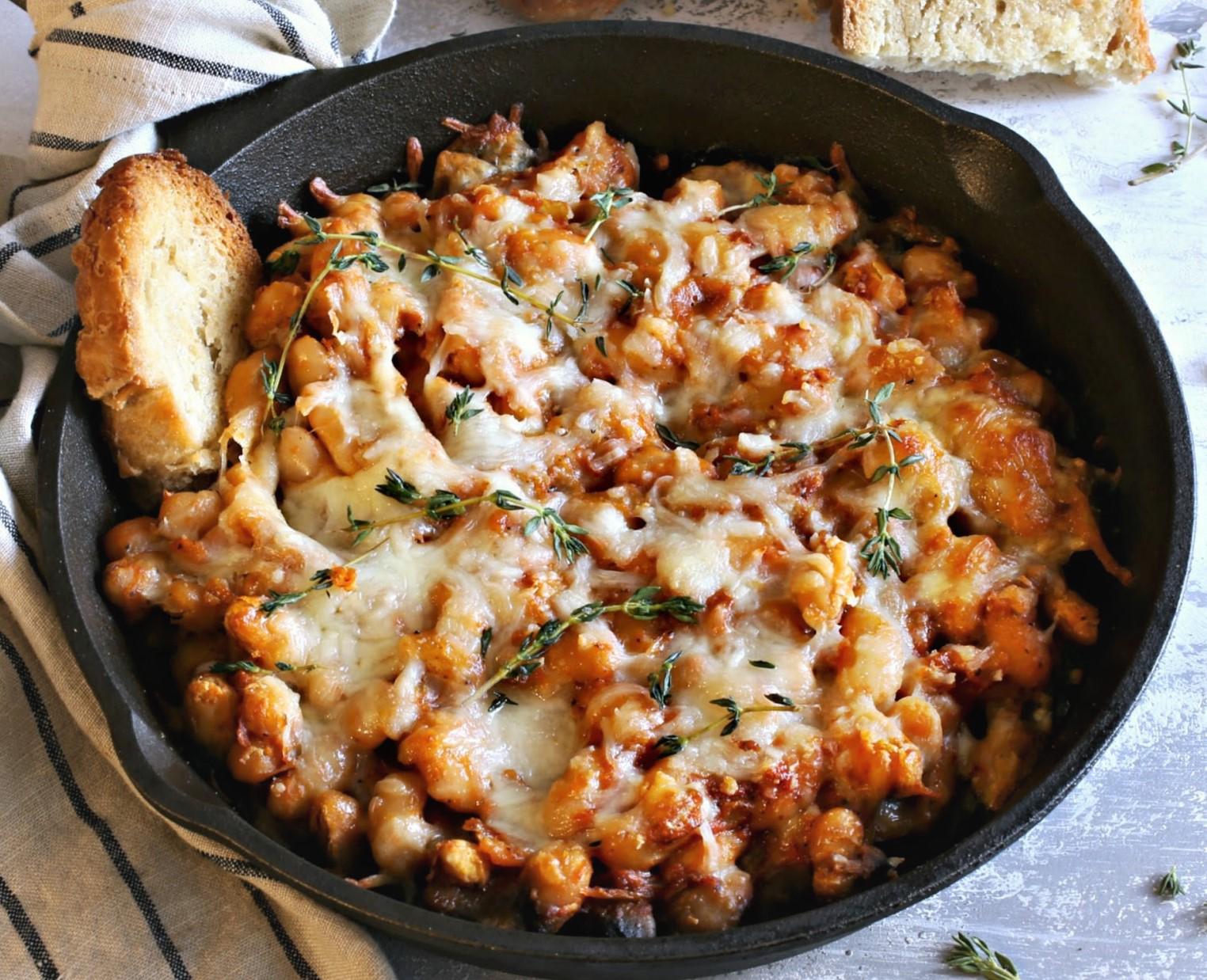 Ingredients:
oil- 2 tsp
butter-1 tsp
garlic-1 tsp chopped
green chilies-1 tsp chopped
onion-1 small chopped
salt to taste
crushed black pepper to taste
baked beans in tomato sauce- 2 cups
boiled macaroni pasta-1 and a half cup
chili flakes-1/4 tsp
mixed herbs-1/4 tsp
tomato ketchup-2-3 tsp
green capsicum-1/2 cup chopped
red chili sauce-2-3 tsp
white sauce- 1 and a half cup
grated cheese-1/2 cup
assorted cold cuts- salami/ ham/ sausages/ bacon- 1 cup cut
can also use canned tuna fish -1 cup
add ons into the baked dish- black and green olives, fresh herbs.
Add ons into the baked dish- broccoli, zucchini, mushrooms.
Method:
1. Assemble all the ingredients for the baked bean baked dish.
2. Heat oil in a pan saute the ingredients starting with garlic, chilies, onions, add in the green capsicum, assorted meats/cold cuts, veggies of your choice.
3. Add in the seasonings, herbs, chili flakes, sauces, little water and cook for 2 mins. Add in the beans and macaroni pasta and mix well.
4. Simmer the mixture for 3-4 mins, add in the white sauce and little cheese and toss well.
5. Place the mixture into a greased baking dish/tray and top with more cheese, olives etc and place it for baking around 20-25 mins and 160 degrees celsius and serve hot with garlic bread.
Recipe- 4] SPICED BAKED BEANS WITH SAUSAGES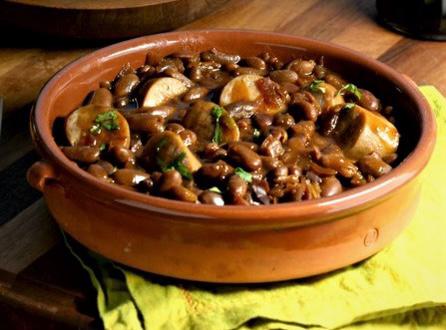 Ingredients:
Oil- 1 tsp
Butter-1 tsp
Spring onions- 3-4 sliced
Ginger-1 tsp chopped
Red chilies- 1-2 slit
Lemon grass- 3-4 pieces
Celery-1 stalk cut into small pieces
Fresh basil leaves- 3-4 no
Shallots- 5- 8 no peeled and cut 1 x 2
Boiled chicken cubes-1 cup
Chicken sausages- 1 cup sliced
Water chestnuts- 4-5 sliced
Salt and pepper to taste
Water/stock- 1 cup
Soy sauce- 2-3 tsp
Peanut butter-2-3 tsp
Red chili sauce-1 tsp
Raisins- 2-3 tsp
Corn starch solution-2-3 tsp
Greens to garnish as required
Method:
1. Prepare all the ingredients for the recipe and keep ready.
2. Heat oil and butter in a pan and saute the ginger, red chilies, lemon grass, spring onions, basil leaves, shallots, cook for a couple of minutes.
3. Add in the baked beans, chicken cubes, sausages and any other veggies of your choice as well and add little water/stock as desired for gravy.
4. Also add in the seasonings, sauces and peanut butter and blend it all well into the recipe, simmer for 3-4 mins.
5. Add in the water chestnuts, a little corn starch slurry to thicken it up a little and add raisins and greens, serve it hot on a bed of sticky rice/ steamed jasmine rice/ egg fried rice.
Recipe-5] TADKEWALA BAKED BEAN PULAO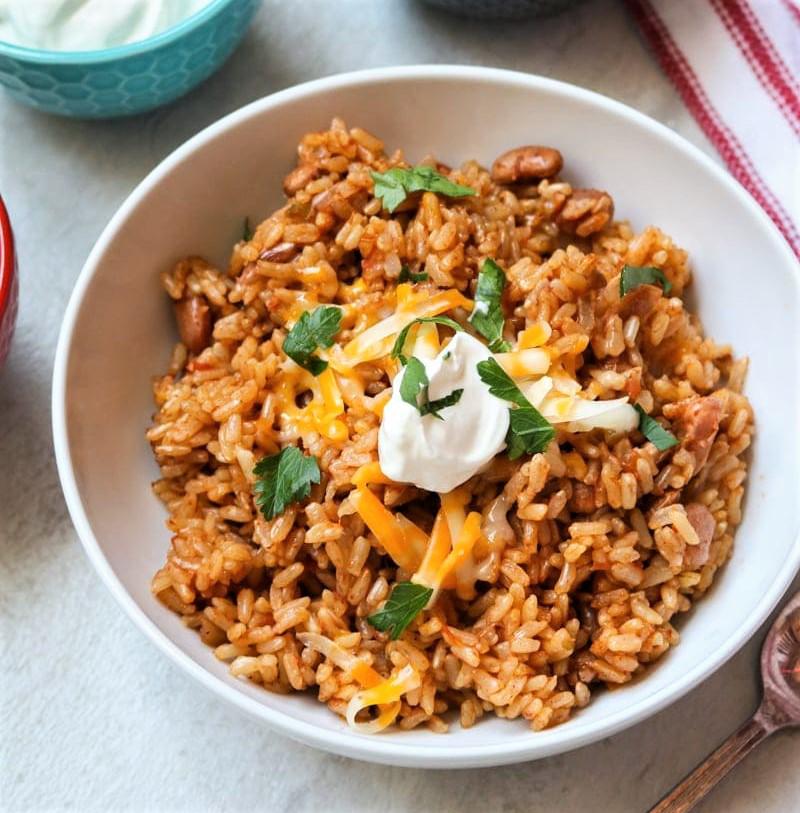 Ingredients:
Oil-2 tsp
Butter-2 tsp
Curry leaves- 8-10 no
Cumin seeds-1/2 tsp
Slit green chilies- 2-3 no
Slit red chilies-2-3 no
Sliced onions- 1 small
Garlic-1 tsp chopped
Ginger-1 tsp chopped
Tomatoes-1/2 cup chopped
Red chili sauce- 2 tsp
Soya sauce-1 tsp
Mixed herbs-1/2 tsp
Chili flakes-1/2 tsp
Cheese-1/2 cup grated
White sauce/cream-1/2 cup
Sliced black/ green olives- 4-5 no
Baked beans in tomato sauce- 1 cup
Cooked white /brown rice- 1 and a half cup
Additional veggies/non-veg ingredients may be added as well.
Assorted fresh herbs/micro-greens for garnish
Method:
1. Assemble all the ingredients for the tadka rice and bean combo.
2. Heat oil and butter in a pan, saute the curry leaves, cumin, ginger, garlic, chilies, onions for a minute. Add in the tomatoes, salt, pepper, herbs, chili flakes, sauces, I also prefer to add colorful capsicum dices here at this stage for a crunch in the rice.
3. Add in the baked beans, rice and toss it up well, cook for 3-4 mins.
4. Now add in the white sauce/ cream and cheese, olives and mix well, cook for another 2-3 mins and serve hot.
Recipe- 6] TEMPERED BAKED BEANS ON TOAST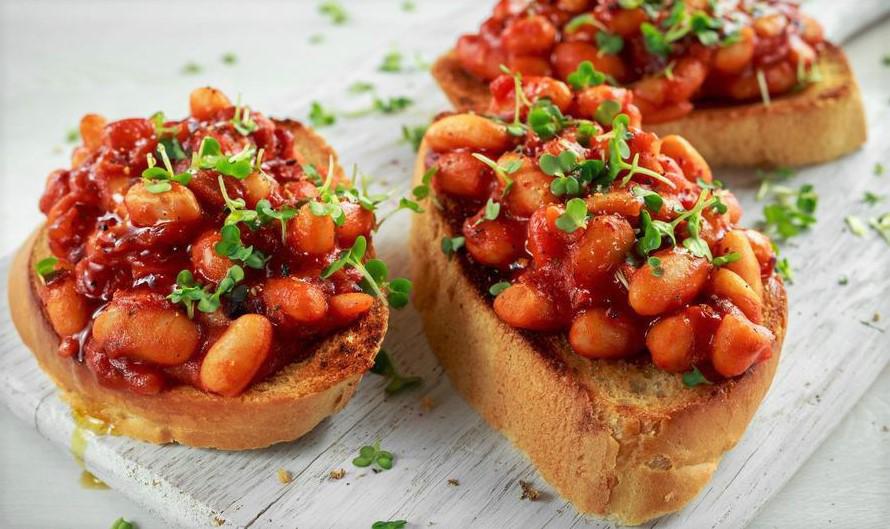 Ingredients:
Oil-1 tsp
Butter-1 tsp
Onions-1 small chopped
Green chilies-1 tsp chopped
Garlic- 1 tsp chopped
Celery-1 stalk chopped
Red/green/yellow capsicums-1/2 cup chopped
Baked beans in tomato sauce- 1 cup
Red chili sauce-1-2 tsp
Mixed herbs-1/4 tsp
Chili flakes-1/2 tsp
Chaat masala-1/4 tsp
Garam masala powder-1/4 tsp
Tomato ketchup-1-2 tsp
To spread on the bread:
Cream cheese/ peanut butter/ pesto mayo
Choice of breads/ base:
White bread/ brown bread/ french bread slices- 6- 8 no
Method:
1. Pre-prep all the ingredients for the beans on toast recipe.
2. Toast the cut out pieces of breads/sliced french bread etc for a few mins and keep aside.
3. To prepare the baked bean topping heat oil and butter in a pan, saute the onions, chilies, garlic, celery in a pan for a minute.
4. Add in the capsicums, salt, pepper, herbs, chili flakes, spices, a little water and sauces and mix well. Cook for 2 mins.
5. Add in the beans, and simmer them for 2-3 mins, adjust the seasonings and taste, should be moist but not watery.
6. Just before serving the toasts, apply the spread on the base toasts and spoon over the baked bean mixture, add more grated cheese on top if desired or serve a cheese sauce/ dip at the side. Gratinate/ bake the toasts in the oven/salamander for 2-4 mins and remove. Serve hot as a snack/ appetizer.
Dr. Kaviraj Khialani- Celebrity Master Chef, is a Mumbai based food- health & lifestyle consultant. With around 25 years of quality experience with hotels, airlines, consultancy – training & development he is a recipient of several national awards & global recognitions. Chef Kaviraj is specialised in over 33 international cuisines and loves fusion cooking, creating new recipes and sharing his experience with foodies around the globe. He has also been featured on star plus & colors television on several food shows. He may be contacted via email: chefkaviraj249@gmail.com / WhatsApp- 9820939336.