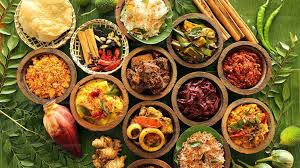 Sri Lanka, being an island with a tropical climate, coconuts and fish are two of the most influential components of Sri Lankan cuisine. Fish is made into curries, and coconut in some form or another, is a dominant ingredient in cooking. Rice and curry is the Sri Lankan staple, though various kinds of bread, both roti style flatbreads and even loaves of bread, are very common. A few things about Sri Lankan food can be said with certainty
Sri Lankans thoroughly love spices, they love food that explodes with flavor, and many enjoy deep fried, and very tasty, snacks. Whatever you choose to eat in Sri Lanka, your mouth is going to rejoice with happiness. Though Sri Lankan food has parallels to South Indian food, yet it remains distinctly its own form of cuisine. The central feature of Sri Lankan cuisine is boiled or steamed rice, served with a curry of fish or meat, along with other curries made with vegetables, lentils, or fruits. Dishes are accompanied by pickled fruits or vegetables, chutneys, and sambals.
Throughout years of colonization and influence from other countries, Sri Lanka has adapted its food culture into a blend of different curry concoctions and tasty dishes. Sri Lankan cuisine is known for its particular combinations of herbs, spices, fish, vegetables, rice fruits. The cuisine is highly centred around many varieties of rice as well as coconut which is an ubiquitous plant throughout the country. Seafood also plays a significant role in the cuisine, be it fresh fish or preserved fish. As a country that was a hub in the historic oceanic silk road, contact with foreign traders brought new food items and cultural influences in addition to the local traditions of the country's ethnic groups, all of which have helped shape Sri Lankan cuisine.
'The cooking of sri-lanka is amazing and balanced with a melange of tastes, flavors, aromas and mouthfeel. The varieties of veg and non-veg dishes have a lot to say about the rich culture and traditional beliefs followed by them in order to impress the audience on a global platform'- Chef Kaviraj Khialani-  Celebrity Master Chef.
ONE OF THE BASIC RECIPE FOR A SRILANKAN CURRY/SPICE POWDER:
Coriander seeds- 4 tsp
Cumin seeds- 3 tsp
Black peppercorns-1 tsp
Cinnamon stick-1-inch piece
Green cardamom-2-3 no
Curry leaves- 10-12 no
Dried red chilies- 2-3 no
Fennel seeds-1 tsp
Black cardamom-1-2 no
Fenugreek seeds-1 tsp
Mustard seeds-1 tsp
Basmati rice- 2 tbsp.
Cloves- 3-4 no
Method:
1. Using a thick bottomed pan, add in the basmati rice and saute it for a few minutes in order to change its color and add a crusty outer look to the rice grains, control the flame and continue adding in the other spices as well and dry roast them all together for few mins.
2.Turn off the flame, remove the mixture into a plate/thali and allow to cool completely, dry grind the mixture to a nice smooth powder and store in an airtight container and use in the sri-lankan recipes/curries etc
Let us have a look at a few popular and easy to make dishes often prepared during festivities, at restaurants and special occasions on Sri-lankan Menus:
SRI LANKAN STYLE MULLIGATWANY SOUP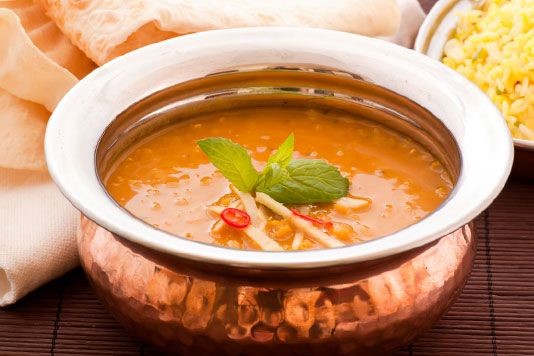 Ingredients:
Oil-2 tbsp.
Curry leaves-4-5 no
Chicken stock-3-4 cups
Shredded boiled chicken-1/2 cup
Onion-1 medium, chopped
Carrot-1/2 no chopped
Tomato-2 med sized, chopped
Green chilies-1 tsp chopped
Red chilies-1-2 no slit
Coriander seeds- 2 tsp roasted and powdered
Yellow lentils-1/2 cup mix boiled- optional
Cumin seeds-1 tsp roasted, powdered
Fenugreek seeds-1/2 tsp roasted, powdered
White rice-2 tsp roasted
Black pepper-1/2 tsp crushed
Red chili powder-1/2 tsp
Turmeric powder-1/2 tsp
Salt to taste
Ginger-1 tsp chopped
Garlic-1 tsp chopped
Celery-1 stalk chopped
Coconut milk-1 cup thick
Coriander leaves-2 tbsp. chopped
For garnish:
Boiled rice-2 tsp
Lime juice-1-2 tsp add and serve
Method:
1. in a pan dry roast all the whole spices along with the rice until fragrant and well refreshed, turn off the flame and cool, add in the peppercorns, powder them all together and keep aside.
2. In a pan add oil, add in curry leaves, saute the onions, celery, carrots add little salt to taste, add in the ginger, garlic, chilies and continue to saute for a few mins.
3. Add in the powdered spices and mix well, add in tomatoes, boiled lentils, coriander leaves, add in the powdered spices and mix well.
4.Now add in the chicken stock and chicken pieces and bring to a boil, simmer and cook for 12-15 mins on a medium flame.
5. Here we have two options to either cool, puree the above mixture or keep it whole as it is, then add in the coconut milk and simmer for 2-3 mins.
6. Turn off the flame and add in lime juice and garnish with boiled rice and serve hot.
SRILANKAN CHICKEN CURRY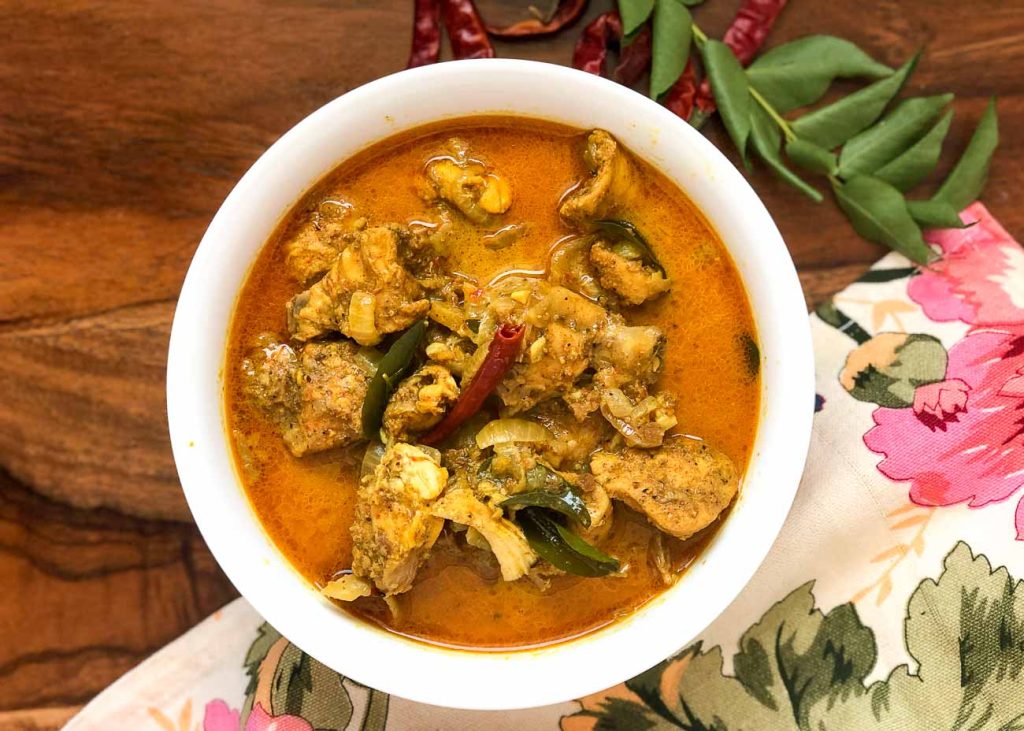 Ingredients:
Chicken curry cuts- 500- 750 gms, with bones and skin.
Oil-2 tsp
Ghee-2 tsp
Onion-2 med chopped
Ginger-1 tsp chopped
Garlic-1 tsp chopped
Tomato-2 med sized chopped
Tomato puree-2-3 tsp
Curry leaves- 8-10 no
Green chilies-2 tsp chopped
Sri-lankan curry powder-2 tsp as given above
Red chili powder-1/2 tsp
Turmeric powder-1/2 tsp
Salt to taste
Water as needed
White vinegar-2 tsp
Coconut milk-1 cup or as needed thick variety
Coriander leaves-2 tbsp. chopped
Fried curry leaves/ red chilies for garnish.
Method:
1. Clean, wash, cut and marinate the chicken pieces with the roasted curry powder, red chili powder, little salt, turmeric powder and vinegar for around 20-25 mins, keep refrigerated.
2. Heat oil and ghee in a heavy bottomed pan, add in the onions until they get light pink in color. Add in the ginger, garlic, chilies, curry leaves and fry for a few mins.
3. Add in the marinated chicken pieces and saute it well with the onion masala in the pan.
4. Add in the chopped tomatoes, puree and saute well, cover and simmer for 5-6 mins, add little water to cook the chicken.
5. Continue cooking the chicken curry for 12-15 mins add in the coconut milk and simmer for 4-6 mins, add coriander leaves and serve hot with sri-lankan steamed rice or with roti/ parathas.
EASY COCONUT SAMBAL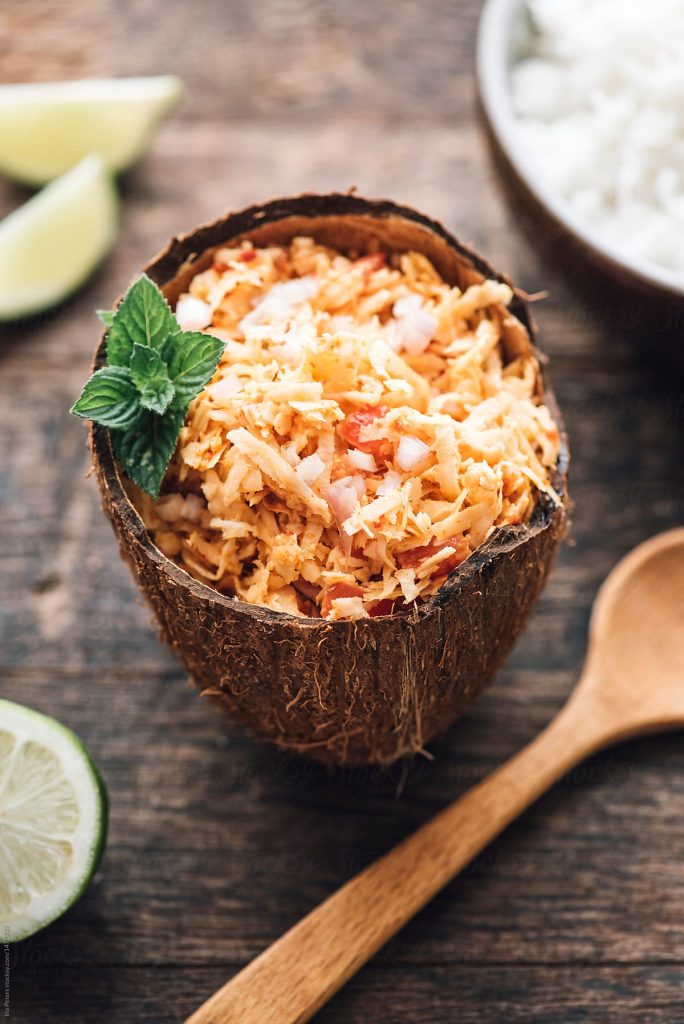 Ingredients
Grated fresh coconut-1 med sized
Shallots- 6-8 no peeled and sliced
Dry red chilies- 8-10 no
Lime juice-2 tsp
Salt to taste
Sugar-1/2 tsp
Method:
1. Dry grind the red chilies and little salt together to form chili flakes kind of texture.
2. Add in the grated coconut to the same grinder jar and continue to churn it once, add sugar and shallots and mix well once more.
3. Remove the sambal into a mixing bowl and adjust salt, and add lime juice mix well and keep chilled until being used to go alongside with meals.
SRI-LANKAN KUTTU PAROTTA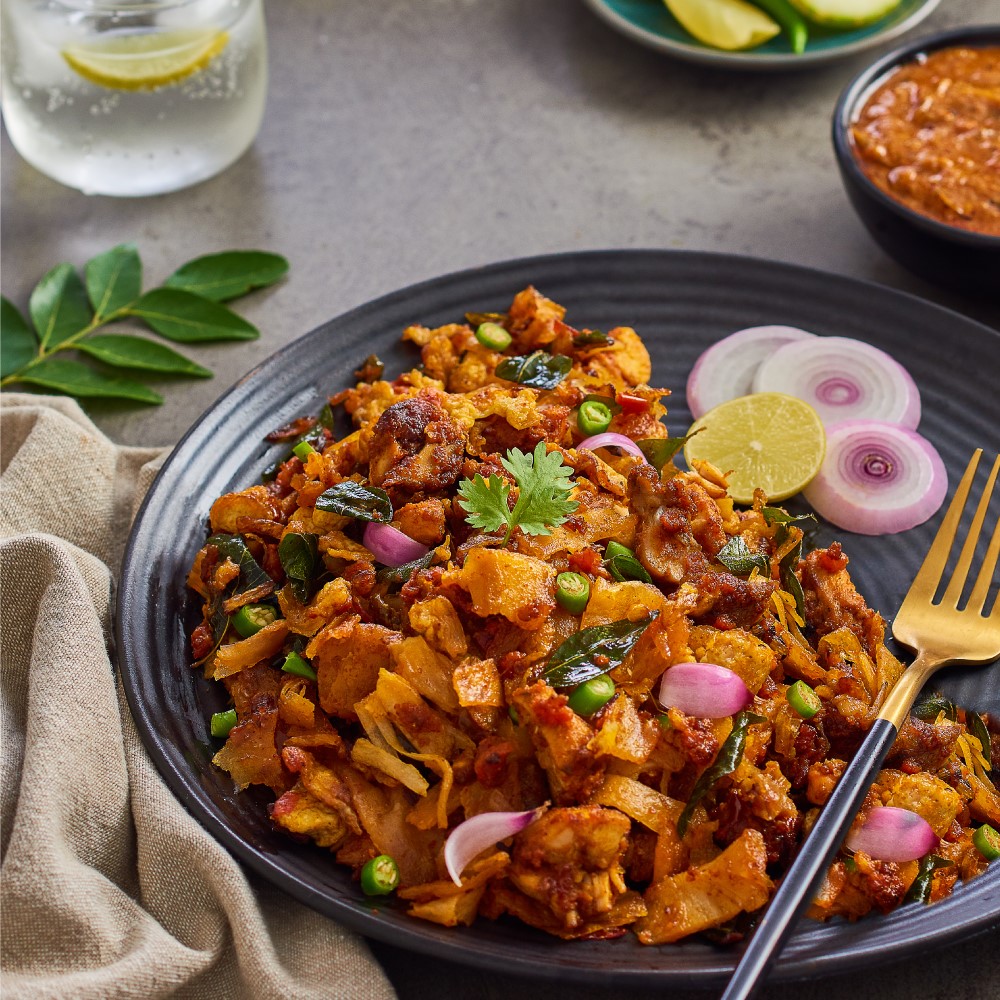 Ingredients
Oil-2-3 tbsp.
Butter/ghee-2 tsp
Leftover rotis/ parottas- 3-4 broken into pieces
Eggs-3 no
Assorted veggies of your choice- carrots/beans/peas/cabbage etc
Onion-2 small chopped
Tomatoes-2 small chopped
Green chilies-2 tsp chopped
Ginger-garlic paste-1 tsp
Water-1/2 cup
Curry leaves- 8-10 no
Salt to taste
Red chili powder-1/2 tsp
Turmeric powder-1/2 tsp
Curry powder-1 tsp as given above
Coriander leaves-2 tbsp. chopped
Lime juice-2 tbsp.
Roasted crushed peanuts-2-3 tsp
Method:
1. Heat oil/ butter/ghee in a pan add onions and curry leaves and saute for a couple of mins.
2. Add in the ginger-garlic paste, green chilies and saute for few seconds, add chili powder, turmeric powder and salt to taste.
3. Stir the mixture for a minute, add in the tomatoes and cook until soft and mushy add a little water to fasten the process.
4. Break in the eggs/ add in the veggies of your choice and cover the pan with a lid and allow the eggs to cook for a couple of minutes on low flame.
5. Add in the cut parottas into the pan and give it all a nice mix to ensure proper mixing, check for salt, add coriander leaves, crushed peanuts, lime juice and serve hot.
PANI POL COCONUT PANCAKE SWEET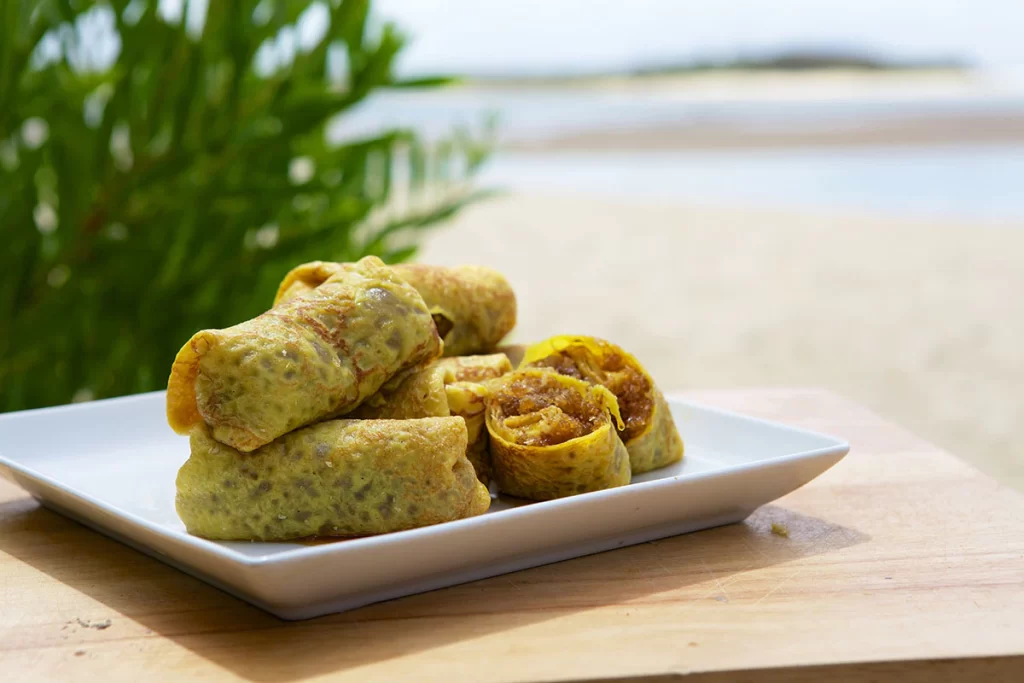 Ingredients:
For the pancake mixture:
Maida-1 cup
Salt-1 pinch
Oil/ghee-2 tsp
Water/ milk as desired to make the batter
Pinch of baking soda
Egg yolk-1 no
Vanilla essence -1/2 tsp
For the coconut stuffing:
Oil/butter/ghee-2 tsp
Fresh grated coconut- 1 cup
Jaggery-1/2 cup
Sugar-2-3 tsp
Cinnamon powder-1 pinch
Green cardamom powder-1 pinch
Chopped nuts-2-3 tsp- almonds/cashews/raisins etc
Method:
1. Prepare the batter for the pancakes and allow to rest for 12-15 mins.
2. Using a non-stick pan, spread out the batter using a round spoon and swirl the pan to spread the batter to form thin pancakes.
3. Using a little oil/butter allow them to cook well on both sides and remove once done.
4. In a separate pan, heat oil/butter/ghee add in the jaggery and stir well, allow to melt on low flame, add in the grated coconut, powdered cinnamon and cardamom, nuts and mix well.
5. Cook this mixture on a low flame for 3-4 mins and remove. While the mixture is still warm we can start filling and rolling up the pancakes and garnish with chopped nuts and arrange them on a serving platter and relish the coconut pancakes.
ON A CONCLUDING NOTE:
SRI-LANKAN CUISINE is truly a delight to try and adapt into our daily cooking as well to be able to enjoy the robust aromas, variety of flavours to treat our palate! Most of these recipes can also be Indianised in a number of ways for example the curries, gravies, the kuttu parottas concept can be a good example to try and work with when it comes to using leftover rotis etc. one should be open to accepting new ideas, new cuisines, new ways of cooking along with trends which keep coming and going. On a note of recommendation along with my own visit to Sri-Lanka a few years back I truly believe this is one of those good foods to be relished by all of us without doubt.
Happy Cooking!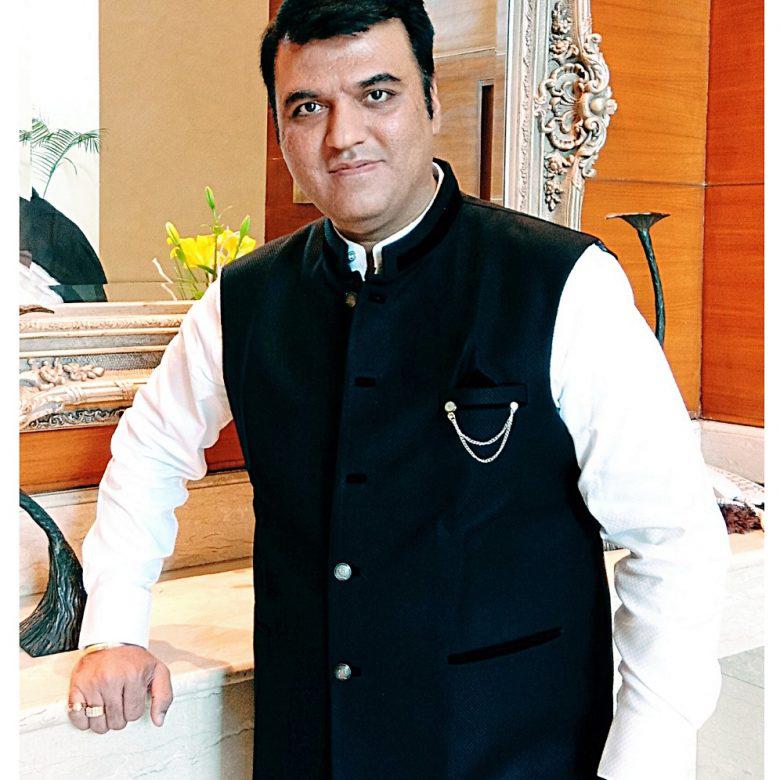 Dr. Kaviraj Khialani- Celebrity Master Chef, is a Mumbai based food- health & lifestyle consultant. With around 25 years of quality experience with hotels, airlines, consultancy – training & development he is a recipient of several national awards & global recognitions. Chef Kaviraj is specialised in over 33 international cuisines and loves fusion cooking, creating new recipes and sharing his experience with foodies around the globe. He has also been featured on star plus & colors television on several food shows. He may be contacted via email: chefkaviraj249@gmail.com / WhatsApp- 9820939336.