Caption for the cover photo:  External view of the kittangi
(Continuation from the previous issue)
The Kittangi – Pioneer Bank 'Branches" that Empowered Nagarathars to Succeed Overseas as Private Financiers
Mr Subbiah Lakshmanan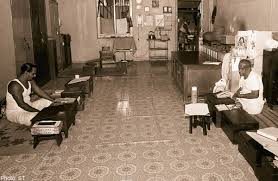 PRAYER ROOM
The top floor of all Kittangis had a prayer room / shrine.  Generally, the deity would be Lord Muruga, especially in his form at Palani where he is standing alone and dressed as a pauper.  This was considered a good reflection of the Nagarathars' dire circumstances having left their families behind to come to a foreign land and living a very simple lifestyle with a primary goal to send back the maximum savings to Chettinad. In front of the shrine would be an open space to accommodate all the Nagarathars living in the Kittangi during festivals.  There would also be sufficient space to go around the deity and do a Poraharam.  There was no resident or visiting priest.  This was strictly a private communal shrine.
During the Pongal festival, Pongal would be made in front of the shrine.  During Navarathri, there will be daily reading of the Kamba Ramayanam by volunteer Nagarathar members of the Kittangi.  Thaipusam, Pillayar Nonbu, Deepavali, Karthigai celebrations etc. would also be observed religiously.
SOCIAL LIFE
In the evenings, the Nagarathars would gather at the communal space in front of the shrine to play games like Carom, Palanguli and Thayam. Card games and gambling were strictly prohibited. Alcohol was not allowed in the premises.  There was a nightly curfew.  The doors of the Kittangi closed at 9 pm and late comers would not be allowed to enter and had to spend the night outside and come in only on the next day.
From the 1950s onwards, a new generation of educated Chettiars moving overseas to take up permanent office type jobs as emigrants rather than sojourners.  Chettinad was no longer the family base, and so women started to emigrate overseas with their husbands.
DAILY ROUTINE
Kittangi life was highly disciplined and simple.  Residents would wake up, before sunrise, between 5 am to 6 am.  No one would be allowed to sleep after the sun had risen.  In any case, it would be difficult to sleep in a public open space as people would be up and about.  The basic training of a child required waking up early and if they did not, water would be poured on their face or they would be caned.  There was simply no such thing as sleeping in – even on a Sunday! Morning rituals would be folding the mats, brushing teeth (using Neem stick) and showering.   After this, the god pictures would be garlanded, incense sticks lit and the God prayers (Sthuthis) were recited.  Everyone had to learn a host of Sthuthis by the age of 12.
This was followed by breakfast in the premises.  After this the Peti would be brought down and placed on the floor.  The Nagarathar would run through what loans are due for the day and where to go to collect the money, making his rounds early in the morning or waiting till after 3 pm when the mid-day heat settled. At the Kittangi, the Nagarathar would be seated at his Peti, waiting for clients or writing his accounts.  Around 6 pm, just before sun down, the Peti would be moved to the top of the cupboards and thus "closing" the business for the day.  They would then walk to the temple, usually nearby and offer their evening prayers.  After this, they may meet friends, or go to the park, visit a restaurant or even play some sport in the neighbourhood.  Others may come back to the Kittangi straight away and play carom, etc., or just socialize and gossip with the other in-house or visiting Nagarathars. Dinner would be served between 7 pm to 8 pm and the doors will be closed at 9 pm, which meant "lights out" and everyone had to go to sleep.
BANKING
Nagarathars started their financing businesses in South-East Asia before the formation and initiation of organized banking.  Before the 1850s, even in major commercial centers like Singapore, Penang and Rangoon, Chettiar firms were the only source of capital.  Even after the arrival of modern western banks, a large segment of the local population did not have access to these banks.  Nagarathars primarily serviced these under-served market segments. From the 1920s Nagarathars went a step further and started forming their own modern banks like Indian Bank, Indian Overseas Bank and Bank of Madura. They kept their cash in safes in the Kittangi premises.  Clients would come to the Kittangi to take out loans.  For repayment, the Nagarathars made arrangements with the client to either collect the money in the Kittangi or meet the client outside on specified dates.
Nagarathars offered a whole slew of banking services like syndicated loans for large projects like tin mines, rubber estates; trade financing for commodities; property loans, venture capital funds as equity stake holders, working capital loans, overseas funds transfer (hundi) fixed deposit services and safe keeping of valuables.  Their lending instruments were customized to client needs and not restrained by any "corporate policies".  They were even known to make loans to fishermen for a few hours – lending money to buy fishing bait in the morning and collecting money in the evening immediately after the catch.  It is a truism to say that, no local entrepreneur and eventual business tycoon in that period would have built their business in these countries without Nagarathar financing.
(to be continued)
SUMMARY
The Kittangi was a brilliant innovation and demonstrated how the Chettiars planned and conceived strategies to expand business and overcome challenges. The Kittangi was a precursor of branch banking and telegraphic transfer.  For about 180 years this model worked well and gave a good run for the money against banks like HSBC and Standard Chartered Bank.  These banks in their official histories mention the Nagarathars as their key competitors and the strategies they used to wrest business away from them.  It should be noted that, these institutions are known to have incorporated successful Chettiar practices and financial instruments into their own corporate practices.
Today out of an estimated 400 or so Kittangis worldwide only less than 20 are in a minimally functional condition.  The traditional Nagarathar banking business model has been superseded by modern banks which offer easily accessible loands and credit card facilities.  However, in Malaysia there are still Kittangis where small scale money lending is still done – Penang, Alor Star, Telok Anson being some of them.  In Kuala Lumpur and Singapore Kittangis are still in a good condition but being used for alternate purposes.  In Sri Lanka, Burma and smaller towns in Malaysia the Kittangis are in a derelict condition with few or no regular occupants. There is an effort being made in Singapore and Penang to preserve the Kittangis as heritage centres.  It is hoped these efforts will bear fruit in the next few years as important heritage of both the host countries and the Nagarathar community.
Like the American pioneers, who journeyed into the Wild West and converted the prairies and deserts into vibrant economic enters, the Nagarathars journeyed into the wilderness of South-East Asia braving the tides of malaria, insecurity, loneliness and uncertainty.  They surfaced as pioneers in the banking profession converting jungles into plantations and mines which then in turn grew into prosperous settlements and towns.  In the process they established a reputation for piety and honesty and were respected by one and all.
Sir Harcourt Butler, Governor of Burma wrote in 1927 (as quoted in the "Fiery Dragons: The Chettiars in Burma"
"You represent a very important factor indeed in the life of this province…Without the assistance of the Chettiar banking system Burma would never have achieved the wonderful advance of the last 25 to 30 years…The Burman today is a much wealthier man than he was 25 years ago; and for this state of affairs the Chettiar deserves his thanks."
A British planter in 1900s Ceylon is quoted to have said:
"Hamlets became villages, villages became towns, towns became cities, thanks to Chettiar businesses"
Nagarathars seized the opportunities of the day with great courage, business acumen and most of all a strong value system to generate enormous wealth both for themselves and the host countries.  Indeed, even today they are a beacon of inspiration and have left us so much to be proud of.
About the Author
Subbiah Lakshmanan is a Singapore-born Chettiar whose great grandfather started a Kadai in Singapore in 1892.  He has been a Financial Controller with various MNCs for over 20 years and he has completed his MBA at UC Berkeley.  He has been involved with many Chettiar related heritage projects in Singapore since 1998 including museum exhibits, talks, TV and radio shows, published articles, community education classes, Chettiar statue and MOE history curriculum. His family originates from Kallal and Vairavan Koil and he has 2 teenage children.
Photo Credit
Mr K Varadarajan
Mr N Subbiah Chettiar