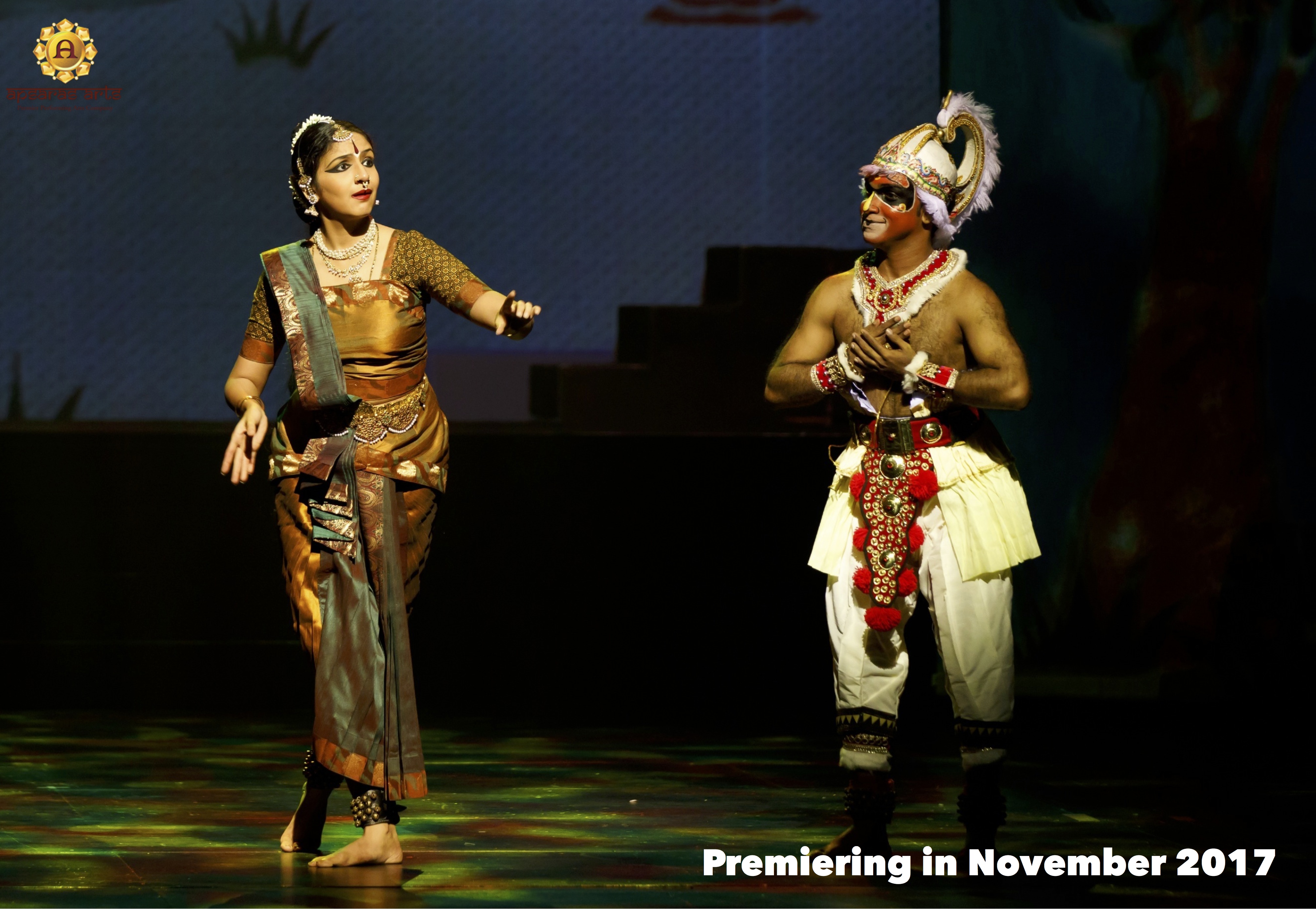 A brand new spectacular epic Indian dance production 'ANJANEYAM' Hanuman's Ramayana by Apsaras Arts co-produced with the Esplanade Theatres featuring Indian dancers and musicians from India and Singapore collaborating with Javanese dancers and musicians from Indonesia is on the17th and 18th November 2017 at the Esplanade Theatre.
Audience will be sent on a spectacular journey by dancers enacting Indian epic Ramayana through the eyes of Lord Hanuman, the revered monkey God.
For centuries, the ancient Indian epic The Ramayana has captured the imagination of Asia with its universal themes of righteousness, love, loyalty and frailty. One of the most beloved characters in the story is the monkey god Hanuman, who plays a crucial role in Prince Rama's quest to rescue his wife, Sita, from the 10-headed demon king Ravana.
Follow the life and adventures of Hanuman, from the time of his birth, to his meeting with the exiled Prince Rama, and to the heroic battle against Ravana and his forces. Watch the story unfold through dance and music, and bear witness to the birth of The Ramayana when Hanuman encounters its author Maharishi Valmiki.
Conceptualised by Apsaras Arts, this cross-cultural production puts together a creative team from around Asia including Era Dance Theatre (Singapore), Kalakshetra Repertory Theatre (India) and Bimo Dance Theatre (Indonesia). It features an arresting juxtaposition of Indian and Southeast Asian depictions of the epic, told through bharatanatyam and Javanese dance and set to a stirring, original score.
Highlights of the Dance Performance – ANJANEYAM
1. It will be an opportunity to watch the performance of two leading Singapore dance companies – Apsaras Arts (Indian dance) and Era Dance Theatre (Malay dance)
2. An Opportunity to watch the performance of two international dance companies – Kalakshetra from India and Bimo Dance Theatre from Indonesia.
3. Listen to and watch a live music orchestra comprising an Indonesian Gamelan ensemble and an Indian music ensemble perform together.
4. The narrative of the performance is on the tale of the Ramayana as celebrated in India and Hamid (Singapore), VP Dhanjayan (India), T Balagopal (India), Lavanya Ananth (India) and Hari Padman (India) in lead roles.
5. The music has been composed by award winning composer Dr Rajkumar Bharathi (India), a SNA awardee and the sound design by OSCAR award recipient of Life of Pi by 20th century Fox and SNA Awardee, Sai Shravanam (India).
6. The production uses leading edge technology – 3D Projection Mapping for the sets and 3D DOLBY Surround sound for the music. The dance production features elaborate costumes and accessories inspired from Javanese styles and Indian styles.
7. Concept & Artistic Direction: Aravinth Kumarasamy (Singapore) – Apsara's Arts
8. Lead Vocals: Abhishek Raghuram & Savita Narasimhan (India) – SNA Awardee
9. Light Design: Gyan Dev Singh (India) – SNA Awardee
10. Lyrics in Hindi, Tamil & Sanskrit translated in English and projected on unobtrusive subtitle screens.
To buy the tickets for the show, please click at
https://www.esplanade.com/festivals-and-series/kalaa-utsavam-indian-festival-of-arts/2017/anjaneyam