Photo Courtesy: ISEAS
Indian Prime Minister Shree Narendra Modi was in Singapore on an official visit on the 23rd and 24th November, 2015.  On the 23rd November he delivered the 37th Singapore Lecture organised by ISEAS Yusof Ishak Institute under the distinguished chairmanship of Deputy Prime Minister, and Co-ordinating Minister for Economic and Social Politics, Mr Tharman Shanmugaratnam.
The title of the lecture was "India's Singapore Story".
The Lecture was also attended by Prime Minister Mr Lee Hsien Loong,  Mr Vivian Balakrishnan, Minister for Foreign Affairs; Mr  S. Iswaran, Minister for Trade and Industry (Industry); and Mr Ong Ye Kung, Acting Minister for Education (Higher Education and Skills) & Senior Minister of State, Ministry of Defence.
The Indian delegation included Mr Shri Ajit Doval, National Security Advisor of India; Dr S Jaishankar, Foreign Secretary of India; Mr Shri Anil Wadhwa, Secretary (East), Ministry of External Affairs;  and Smt. Vijay Thakur Singh, High Commissioner of  India to Singapore.
Ambassadors based in Singapore; senior government officials; business leaders; academics; students and members of the media attended the conference of the crowd of 1,000.
Mr Tharman Shanmugaratnam in his opening remarks said, 'This year as Singapore celebrates 50 years of Nationhood, we also celebrate the friends who have stood by Singapore, since its earliest days.  India was the 2nd country to establish diplomatic relations with Singapore".
Further her said, "From this early friendship,  We have developed a vibrant and multi fasted relationship over the five decades.  Our economic relations are strong, with Singapore being one of the largest investors in India today.  Our companies are active in sectors relevant to India's development and indeed to  Prime Minister Modi's priorities.  Sectors such as urban solutions, infra structure, aviation, ports and logistics.  Many Indian companies likewise have established  regional and global operations in Singapore.
Our people to people relationship runs deep.
Even as we celebrate the past 50 years, we want to build a partnership for the next 50 years".
Prime Minister of India Shree Narendra Modi in his lecture,  began with the homage to one of the greatest leaders of our times and the architect of modern Singapore  Mr Lee Kuan Yew.
He said, "From Singapore stories, I drew many lessons.  The most profound is from the simple idea that a transformation of a Nation begins with a change in the way we are.  It is important to keep your city and surroundings clean, build modern infrastructure.  For me too, 'Swachh Barath Campaign' is just not a program just to clean our environment but to transform the way we think, live and work".
He further said, "The size of a nation is no barrier to the scale of its achievements.  The lack of resources is no constraint for inspiration, imagination and innovation".
On 23rd November, once the lecture was over, Mr Modi and Singapore Prime Minister Mr Lee Hsien Loong had dinner at the renowned Indian Vegetarian Restaurant 'Komala Vilas' in Serangoon Road.  There was a crowd of people on both sides of the entrance of the restaurant, all with their hands raised- holding their hand phones to capture the picture of the two Prime Ministers.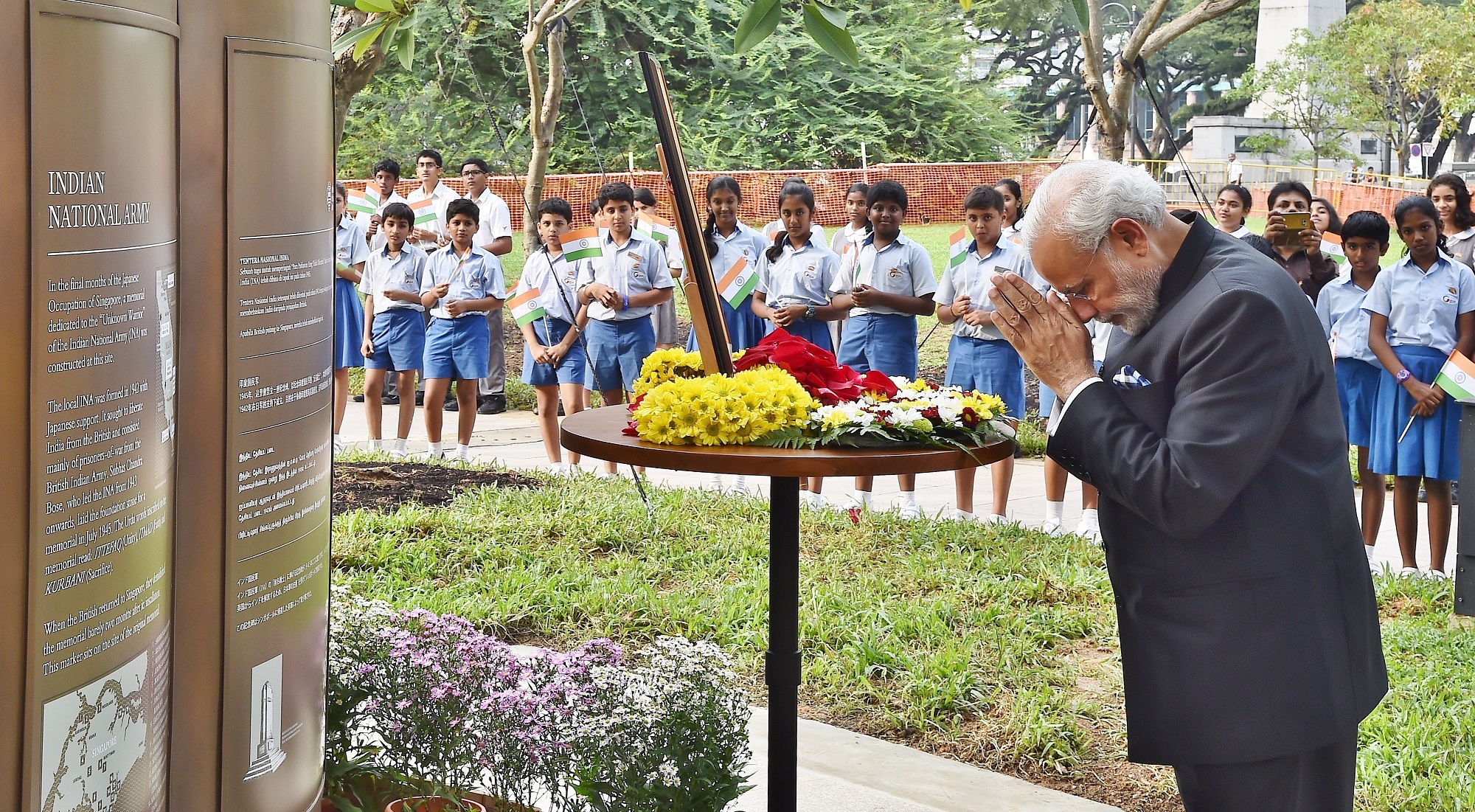 Photo Courtesty: Indian High Commission
Among his other schedule, Mr Modi paid homage at the Indian National Army on 24th November evening, organised by the Indian High Commission with Singapore Indian Association as partner.  Veterans of the INA and others participated in the event.  Ambassador Tommy Koh was also present among the many other distinguished VIPs.
On 24th November Evening, at the Singapore expo hall, Mr Modi addressed a crowd of 18,000 organised by the Singapore NRI Forum.
Indian Prime Minister Shree Narendra Modi's visit has helped to transform the Singapore-India relationship into a strategic partnership.